I know it's only November and you might not like having to face it just yet, but the time has come to talk about Christmas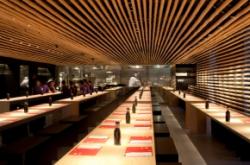 and more specifically, Christmas menus. Luckily for you though, dear reader, I am easing you in, as my first assignment of the festive season involves no turkey, no stuffing and no cranberry sauce. In fact, it contains virtually no discernible elements of Christmas at all…
Cha Cha Moon is a popular modern Chinese restaurant situated on Ganton Street, a busy little road found within spitting distance of London's Christmas nucleus, Oxford Circus. Although Chinese food is hardly synonymous with traditional seasonal fare, given its locality the restaurant could hardly ignore the impending advent of… well, Advent, and has produced a Christmas menu accordingly.
Cha Cha Moon has taken a dignified approach to Christmas though, and perhaps sensibly, has remained true to its realm of expertise. They haven't peppered the menu with festive puns (although if they change their mind "Ho!Ho!Ho-Fun Noodles" is a winner) nor have they resorted to putting an Eastern spin on Christmas dinner.
Instead, Christmas at Cha Cha Moon comes to you via a three-course set menu of Eastern dishes, a large pot of tea and a generous glass of Prosecco. Granted, this doesn't sound especially seasonally apt… But for two things:  All in, the menu comes to a rather festive £22.00 and the word 'Christmas' is emblazoned across the top of the menu.
On arrival, seasonal paraphernalia was notably absent from the table. No sign of Christmas (or prawn) crackers, party poppers or tinsel. Concluding that Cha Cha Moon at Yuletide is more or less identical to its perennial self, I decided to banish Christmas from my mind and concentrate on the food. So, sulking slightly, I ordered.
Any disappointment felt due to a lack of gaudy table adornments quickly dissipated with the arrival of the wontons. To my delight, I found that each silky wrapper housed a whole king prawn and was stuffed with delicately spiced minced chicken. By keeping the prawn whole, several outstanding layers of texture were created, making every bite something to savour.  
The second side dish was a generous portion of sticky chicken thighs, which were well-fried in a crunchy caramelised coating. Sweet onions glazed with ginger and soy made for an excellent accompaniment. The flavours were much more complex than the sum of their constituent ingredients, which is always a ringing endorsement of a chef's culinary prowess.
My Malaysian green curry main, a Christmas special, came in a thick, lush sauce which pinged bold flavours around my palate. Unctuous chunks of white fish and yet more king prawns were cooked to their juicy best and contrasted nicely with the crunch of celery and bullets of red-hot raw chilli. A Cha Cha Iced Tea, containing vodka, green tea liquor and cranberry, was a festive concoction that successfully neutralised the curry's heat leaving only its delicious flavour to linger.
Dessert was good too. We enjoyed green tea ice-cream, which was delicate, musky and delightfully creamy, and a soft baked banana served with black honey,  vanilla cream and red bean paste with its incredibly moreish texture and 'roasted chestnut' flavour. It is probably not to everyone's taste, but I for one could have eaten a whole bunch of bananas like this.  
Whether Cha Cha Moon has created a successful Christmas menu or not is a moot point. The important thing to take away is that the food is good value and delicious. So when you inevitably find yourself panic-buying in Oxford Street in the weeks leading to The Big Day, do consider popping into Cha Cha Moon for a great meal and a glass of sparkling wine. Who knows, you might appreciate the break from traditional Christmas grub by then.
 For more information on Cha Cha Moon and the Christmas menu, visit www.chachamoon.com