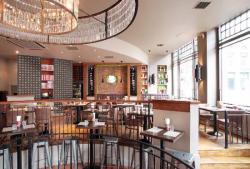 You have to applaud the people behind Assaggetti before you even set foot through the door. Based on Haymarket, in the heart of London's West End, it is difficult to imagine a restaurant that better marries concept with location. By serving cicchetti (Italian tapas) it was destined to attract hoards of hungry pre-show theatregoers from the moment its doors first opened. Add to that a close proximity to Piccadilly Circus, guaranteeing a footfall of tens of thousands of potential customers every day and you would be hard pressed to imagine it doing anything but a roaring trade.
All too often though, restaurants with a boil-in-the-bag clientele serve up boil-in-the-bag suppers, and often tempt punters from the street with little more than the honey pot of slick branding. I was keen then, to see if it was substance or style that lay at the heart of Assaggetti.
The dining area of the restaurant spans two floors which are linked by a large spiral staircase. The eye is instantly drawn to a spectacular chandelier, a grandiose design feature which dominates the space. Bright walls play off dark wood and brown leathers to give a contemporary feel to classic Italian design. There are a few blatant touches of Italian paraphernalia dotted around too, but overall the place is not in itself overtly Italian.  I took this to be a good sign that Assaggetti was in the market to let its food and not a gimmick do the talking.
Another good sign were the people I met at my dinner table. Luca had joined us from Enotria – an award winning merchant of specialist wine. Aside from being a real life Italian, he also served as our sommelier for the evening and peppered the meal with an excellent and surprising array of Italian wines. The good people of Parmigiano Reggiano were also represented at the table to mark a recent collaboration with Assaggetti on the addition of some parmesan inspired dishes to the menu. This is shrewd business perhaps, but endorsement from a D.O.P cheese giant cannot come lightly. I began to suspect the food would be good.
I imagine most visitors to Assaggetti will order one or two cicchetti with a glass of wine as an afternoon pick- me-up or pre theatre aperitif. My visit though, was more from the try everything school of dining. This was easier said than done. The dishes may be shrunken versions of the originals but I quickly learnt they were by no means bite sized.  With most dishes costing between £3.50 to £5.50 a substantial enough lunch with a glass of wine could easily leave you with your bus fare home from a twenty pound note.
The Mixed Tuscan Salamis were earthy, rustic and really rather good, ditto for the creamy burrata. Although slicing cured sausages or spooning out soft cheese is no reflection on the technical ability of the chefs, it did show that Assaggetti are willing to source good ingredients, which is the first fundamental principle of Italian cuisine.
The second fundamental principle: don't cock up the pasta. Happily, the pasta dishes I tried were all good, especially the Ravioli with Seafood which was cooked al dente, generously packed and topped with a delicate version of an old school parsley sauce. The Duck Ragu was rich and winey and clung well to the thick spaghettoni which, had I been alone, I would have been tempted to slurp in individual strands like a toddler.
Slow cooked Beef Stufatino was slightly marred by over seasoning, which was a real shame as the meat was meltingly tender and I would have liked to have tried it at its best.
The cheese course that followed was good though and featured generous lumps of Parmigiano Reggiano (of course), caciotta and pecorino.
A shot glass of ice cream marked the end of my meal. The menu provides for several more exciting miniature Italian sweets but I was simply too full to indulge. Luca also introduced a Birbet Brachetto sparkling red dessert wine which at only 5% ABV was barely more alcoholic than fizzy Ribena, but there was no questioning the surprise and delight on the faces of all who drank it. It was new to me, and I highly recommend it as a novel drop to polish off a meal.
Assaggetti is a rare breed; its location, size and concept have all the hallmarks of a classic tourist trap, yet the prices are reasonable, the food is good and the atmosphere is convivial. They clearly have integrity. So when they claim "Assaggetti was created to offer exciting dishes in a flexible, affordable format" … I for one, believe them.