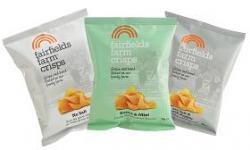 Ready Salted? Pah! Cheese and Onion? Yawn. Smokey Bacon? Meh!
Fairfields Farm Crisps reckon we need a revolution in crisp flavour combos and they're kicking it off with their new (pretty out there) butter and mint.
The award-winning company, based in Colchester, Essex, love a bowl of new potatoes smothered in butter with chopped mint so thought 'why not on crisps?' And while we haven't been lucky enough to try them yet (we've tried some of their other flavours and we like 'em), apparently they're lovely!
And they aren't the only ones; husband and wife team Laura and Robert Strathern have also brought out a No Salt crisp and a Sea Salt and Black Pepper alternative.
The butter and mint hand-cooked crisps us mint sourced from Stangroom Brothers, a Norfolk family farm, and potatoes 'lovingly grown' in the soils of the Colne Valley.
The Stratherns grow their own potatoes on their farm and now also store, wash, grade, slice, hand-cook and pack them too in the company's brand-new factory.
Robert, whose family have been farming for three generations, said: "The best crisps need the best potatoes. Because we grow all our own potatoes here on the farm, during harvesting time from July to September, they can be harvested in the morning and cooked and packaged by the evening, so they are the freshest and crispiest they can possibly be."
"We pan-fry the potatoes in sunflower oil with their jackets on, and source flavours wherever possible from local producers, to support other small business and showcase the best of East Anglia. The mint in our Butter & Mint crisps, for example, comes from Stangroom Farm in Norfolk, which has been growing herbs since 1961.
"Not only does keeping it local ensure quality and full traceability on all our ingredients, but it also enables us to keep our food miles to a minimum."
And with the exception of Wicks Manor Smoky Bacon, all Fairfields Farm Crisps are 100% natural, non-GM and are suitable for coeliacs and vegetarians.
Nine flavours are available in the Fairfield Farm Crisps range:
NEW Butter & Mint
NEW No Salt
NEW Sea Salt & Black Pepper
Smoky Bacon and Sunday Roast Potato
Lightly Sea Salted
Sea Salt and Aspall Cyder Vinegar
Sweet Chilli
Farmhouse Cheese and Chive
Parsnip Crisps with Essex Honey & Black Pepper