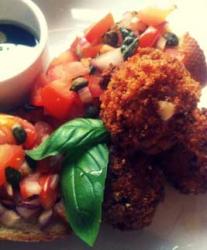 I recently had the pleasure of having dinner with a dazzling trio of PR ladies from Parmigianno Reggiano and Parma Ham. During our conversation I was challenged to create a recipe combining both products. Challenge accepted the result is this: Salty-sweet Parma Ham with a crunchy pepper and panko coating enveloping a molten heart of parmesan, mozzarella, basil and oregano. Served with a simple bruschetta this makes for an awesome lunch or tapas style snack.
Ingredients: For the coating
Panko or good quality bread crumbs mixed with cracked black pepper and a sprinkle of grated parmesan
Plain flour
1 x egg, whisked
1 x pack of Parma ham.
For the filling
60 g grated Parmigianno Reggiano
60 g Buffalo Mozzarella
50 g Grated hard mozzarella
Finely chopped Basil
1 teaspoon oregano
Pinch of salt and pepper
Vegetable oil to deep fry.
Method
1. Place the ingredients for the filling in a bowl and work hard with your hands until a dough like texture forms.
2. Roll the mixture into individual balls.
3. Wrap each ball in a slice of Parma ham, making sure there are no gaps the cheese could seep through.
4. Roll each ball in flour, then egg, then breadcrumb mix.
5.  Deep fry each ball for about 40 – 60 seconds in very hot oil, remove and drain on kitchen towel
6. Place balls in oven with bruschetta (below)
For the Bruschetta:
3 x good quality tomatoes
½  x red onion
1 x spring onion
1 x tablespoon capers
Chopped basil
Baguette – sliced through the middle
2 x cloves garlic
Olive oil
Balsamic vinegar
Salt and pepper
Method
1. Preheat the oven to its highest setting
2.  Chop the onions and tomatoes into small cubes
3. Slice spring onions into thin rounds, finely chop the garlic and basil
4. Add all chopped ingredients to a bowl with capers, seasoning add a good glug of balsamic and olive oil
5. Rub some olive oil and garlic into the baguette, spoon on the tomato mixture and bake for about 5 minutes.