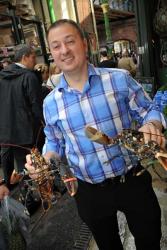 If, dear Foodepedia reader, you fulfill our target demographic of earning over of $200,000+ (joke – we love ALL of you), you may want to consider hanging out with the head chef on and off a cruise ship. Sound fab? May burn a hole in your Missoni jacket pocket but it's a perk of being a cruiser.
Frédéric Camonin is the executive chef of Azamara Club Cruises which just happened to be docked at Greenwich on a rainy day in July.
While many cruise ships remain in port for only a few hours, this cruise ship offers foodie shore excursions in its various destinations where guests can traipse around a local food market while Chef and Sommelier stock up on produce.
Of course, you need to be a passenger first and that ain't cheap but once on, the foodie trips are free. Camonin's favourite markets include those at Seoul and St Tropez, not quite rivaling my local Ridley Road in Hackney for glamour but ones I'd quite like to cruise to.
We spent the day with him at Borough Market traipsing the wet floors for purple aubergine fingers and knobbly heritage tomatoes.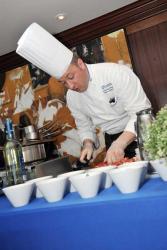 As Camonin tested 65% chocolate from Rabot Estate chocolate shop or posed with cycling lobsters, he shared what life is like on a cruise ship as executive chef. Having worked 11 years on cruise ships, he spends four months working up to 18 hours a day, seven days a week in the kitchens but then has two months off. Four on, two off and on his days off, he sometimes gets to take guests to local food markets. His onboard kitchen, he says, is top notch with all the latest catering equipment but they are not allowed gas nor to cook sous vide as it's not considered safe according to USA rules.
From a very young age, Camonin worked with his uncle, a butcher and owner of a catering company, preparing banquets and wedding receptions. He graduated from the Culinary Professional Institute "Alain Fournier" in Verdun, France before working at Parisian brasseries and restaurants for the next seven years.
In 1999, he decided to begin a new culinary trajectory within cruise lines. He joined Celebrity Cruises in 2001 as a working chef then was promoted to executive chef in 2003.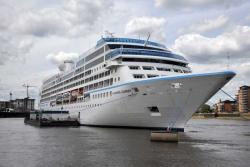 At Neal's yard Dairy, he told us how the Brie de Meaux, one of its very few non-UK cheeses, is made just three kilometres from his home in Lorraine, France. We took a Stinking Bishop for our cheeseboard later whose smell took several antibacterial hand douches to remove.
After the circular market tour, we were shimmied on board the Azamara itself, berthed at the Cutty Sark, and admired the spectacular view of London, Shard, Gherkin, all enjoyed from towerblock height and midriver point.
On board the luxurious teak and royal blue liner, all wrought iron balustrades and spa therapy, Camonin cooked up a mille-feuille of caramelised pineapple (from the market) roundels sandwiching the poached lobster with pear, carrot and jicama (Asian turnip) – a dish served on board but usually using chicken.
After pan-fried sea bream with beetroot crisps and a tiramisu made with that morning's pure chocolate, we reluctantly slurped through the Port of London Authority back onto not-so-dry land, wishing somehow we'd stowed away.
For more information on Azamara Club Cruises see www.azamaraclubcruises.co.uk.