Arguably, everyone loves a curry. But, as any discerning fellow knows, there's curry and there's curry.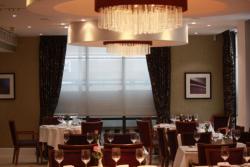 There's the huge vats of base gravy turned into sickly-sweet kormas; dull, derivative dhansaks; or vicious, volcanic vindaloos. Then there are scratch cooked, silky, butter-based sauces; bright green, spanking fresh herbal preparations; and thick, nut-enriched pastes.
And Bombay Palace are firm champions of the latter bunch. With a strong global presence and an excellent pedigree, August sees the welcome return of the restaurant to London. The original restaurant established itself as a high-end stalwart back in 1981, offering punters another, long-overdue option in the under-represented field of Indian fine dining.
Head chef Harjeet Singh earned his spicy stripes at legendary Delhi diners Bukhara and Dum Phukt– and the influence is evident in the quality of the North West Frontier dishes on the menu. The standard stays high as the menu roams the subcontinent; offering everything from Chowpatty beach snacks to Jaipur-style crispy okra and seafood dishes to make any Keralan fisherman weep. In a good way, of course.
Glossy, muted glam and smart service puts the Bombay Palace experience up there with the likes of Tamarind, Amaya, Benares or Quilon– the few Indian elite who manage to pepper the good food guides only too lightly. The ingredients, technique, skill and expertise involved in executing Indian cuisine well can, and should, rival any Western fine dining experience- and the new Bombay Palace may just widen a few eyes.
Bombay Palace, 50 Connaught St, W2 2AA, (020) 7723 8855, www.bombay-palace.co.uk