Sophia Loren famously owed everything you saw to spaghetti. Well, right now, I'm rather indebted to Basmati rice. After all, the slender, aromatic grain is the very thing that got me here to New Delhi- to attend the launch of a new coffee-table book, 'Basmati- Fragrance, Flavour & Finery'.
Although on the other hand, if it weren't for the pesky grain I'd have been spared bone-breaking rickshaw rides, regular olfactory assaults, and an endless, incessant soundtrack of honking horns during rush hour- which, in Delhi, is every hour. Even the most straightforward foray into town is quite an experience in- and for- every sense.
Delhi is not a city for the easily nasally offended. Scents come thick and fast- one moment a fragrant, spicy food stall, the next an open and frequently used latrine. A whiff of deep-fried street snacks can only go some way to masking the pungent bodily aromas of thousands of Delhi-ites and tourists jostling around a packed marketplace. Some places reek of prosperity, others of sheer squalor. There are smells I've never encountered and hope never to again.
But then there's everything else. India is colour. Rainbow hues bedeck vehicles, houses, street stalls and clothing. Noise is ever-present, soundtracking everything from the frantic pace of the Chandni Chowk market to Friday prayers at the Muslim mosque. A galaxy of tastes is available to those who dare. Delhi is known for its range of street foods-'chaat'- and snacks of creamy, crunchy, tangy dahi puris and sweet sticky laddoos certainly get me talking.
As a major metropolis with a modern outlook, Delhi thoroughly embraces the concept of the 'culinary melting pot'. Throughout the trip, we encounter dishes from the length and breadth of India. A tandoori banquet at the 'traditional' Park Balluchi restaurant delivers kebabs on flaming skewers, the ghee-rich vegetable dishes the colder North is famed for, and our first introduction to potently delicious Indian rum.
The following morning's breakfast takes me right down to the South- and into the realms of digestive discomfort that thankfully has everything to do with sheer greed and nothing to do with the notorious 'Delhi belly'. During my stay, in fact, I redefine the term to christen the rugby-ball-sized gut that I seem to be fast developing.
And when early morning service delivers masala dosas, fluffy idlis, dahl parathas and silky pistachio milk, it's worth waddling over to the buffet for seconds. Trouble is, this is followed by a vast showcase of Basmati rice dishes, all-you-can-eat lunch, market eats, cocktails and dinner…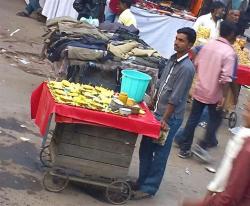 Over two days, acclaimed chefs from India and the US, Mexico, the UK and France cook up a storm in the open kitchen of The Grand hotel. Offerings range from the global fusion- sushi, fritters and burritoes, to the traditional, with curd rice, Hyderabadi biryani and its Lucknowi compatriot, the Tehri. A particular glimmer of innovation comes from The Mandeville's Matt Edmonds, who uses the cooking liquid from the rice to infuse Basmati's haunting flavour into a veloute.
Our encounters with rice are not limited to the showcase. During a night of Bollywood comedy, music, dancing and general frivolity with the very willing Indian dignitaries, pastry-covered vessels appear. Once broken open, they release a mouthwatering aroma, a clarion call to those of us who haven't eaten for at least an hour. These biryanis have been struck 'dum'- cooked by steaming under dough so they're rendered moist and absolutely delicious.
The evening runs late into the night. But then, everything runs late in Delhi. Once comfortable with India Time- referred to with knowing smiles by our guides and hosts, it's hard to retain the sense of urgency so inherent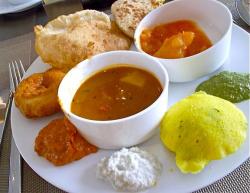 to us Britishers. Bureaucracy is similarly laissez-faire with timing. Combined with stringent security in other fields, this means legal matters can run on and on.
Herein lies the problem in promoting Basmati- and the reason the Government has us all here. As with our protected products- Melton Mowbray pork pies, Stilton cheese- the aim is to attribute some distinctive status to the rice: a recognised mark of quality to attest to its own unique qualities. 'Basmati' means 'full of aroma', as anyone who's eaten it will concur.
But it's also full of history, lore and human interest stories. The Indian food industry has different priorities to the UK- with consumers valuing cleanliness, product quality and the superior nature of one brand over another. Conversely, the British market goes wild for provenance, sustainable farming methods and the face behind the product.
So the production of the book is a valiant attempt to put the wheels in motion, connecting worldwide consumers with a grain that can feed many pleasurably, sustainably and relatively cheaply. Despite difference in commerce and culture, we're all partial to something that tastes good- global gannets, if you will. And from that perspective, Basmati stands shoulder to shoulder with the finest Italian Parmigiano, French Champagne or even the good old Cornish pasty.
'Basmati- Fragrance, Flavour & Finery' is edited by Shilpi Gupta and published by APEDA.