We're learning that dieting is not the answer to long term good health and weight management. Jennifer Joyce believes that instead of eating fat-free, taste-free food, we should learn how to eat the things we love in moderation and embrace the many different flavours from cuisines all over the world to give your meals a healthy spin and a little pizzazz.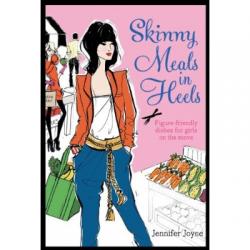 Author of 8 books and a long term food writer, stylise and food enthusiast, Joyce's latest offering Skinny Meals in Heels is the lighter but equally sophisticated younger sister to her original book Meals In Heels. The pages are graced with the stylish flourish of designer Emilia Toia and the unmistakable illustration of Megan Hess resulting in a knock-out presentation of Joyce's ideas and recipes. The hard cover and plack edging makes this book feel special and ultra femme.
Opening with a mission statement delaring that Diet is a Dirty Word and chock full of 'skinny' tips that advocate variety, wine and coffee, quitting when you're full and advising against denial, dieting and snacking this book encourages good, sensible eating habits. Joyce is keen to share her wisdom and inspire in the reader her love of good, fresh and tasty food.
Skinny Meals in Heels is a collection of recipes that you can make ahead and that will present well and taste great when you serve them up to your friends. After you've donned your heels that is. High heels aside though, I like this book because it is all about introducing variety through the inclusion of a wide range of international flavours and ingredients. The spices and ingredients used in many Asian, Mexican and Middle Eastern cuisines offer wonderful alternatives to our wester reliance on heavy grain and potato-based dishes.
Each recipe comes with tips to prepare ahead and also a note as to what makes it 'skinny'. By doing this, you're not only learning great new recipes, you're also learning about good eating habits and how to make better choices. Because it's so pretty I'd say this book would make a great gift, but then again, you risk offending the receiver. Instead, buy this one as a gift for yourself. But of course I wasn't suggesting that you need to lose weight or anything.
Skinny Meals in Heels by Jennifer Joyce is published by Murdoch Books and sold at all good book stores.
{ISBN:174266573X}