Dulwich Road, Brockwell Lido, London SE24 0PA www.thelidocafe.co.uk
Sitting by the window as the cold Winter sunlight burnt through, shimmering off the cobalt and chlorine-hued water of the pool; the air full of roasting coffee beans and the shrieks of nearby children, I could have almost convinced myself I was on holiday and not by Brockwell Lido, which is, incidentally, exactly where I was.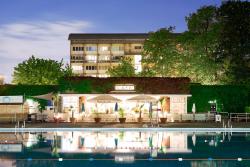 I'm a south Londoner and have braved the unheated waters of Brockwell Lido's outdoor pool before, but I can't think why I'd never been to the cafe, especially considering its growing reputation for fresh, accessibly priced British cuisine in unpretentious surroundings. Apparently all it took to lure me inside this small, sunlit restaurant was their latest offer: a Wednesday burger deal that combines the cafe's bestseller with a choice of beer or soft drink for the very reasonable price of £10.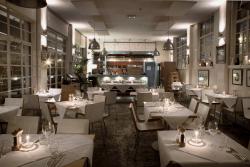 The afternoon I visited, the cream-coloured cafe was dressed down for a relaxed lunchtime service with brightly-coloured paper balls floating like suspended sea cabbages or jellyfish above the banks of laptop toting freelancers who sat sipping coffee, facing outwards to the sweeping views over the terrace and across the sharp, cold blue of the pool.
The first thing I noticed was the drinks menu, which caught me off guard with its comprehensiveness. It's not often you come across a poolside cafe that offers three types of 10-year-old single malt, ice cream milkshakes, craft ales and hot cocktails. Although the hot cocktails make sense when you think about the tenacious winter swimmers who probably head to the cafe post bracing dip to revive their numb muscles with something like the Dirty Chai Toddy – Rebel Yell bourbon, espresso and chai syrup, £7.00.
The lunch menu is filled with bistro staples like smoked haddock fishcakes and charcuterie platters, but I'm here to sample the burgers. Spurred on by a general feeling of sunny well being and my proximity to the pool (which by proxy feels as though I've shared in some sort of communal exercise) I opt for the healthy option, eschewing the tempting dry aged rare beef burger for the lighter option: a beetroot burger with a side of buttermilk slaw and twice cooked chips and a huge, violently green smoothie.
When the burger arrives, sandwiched between a toasted brioche and spilling over with proper gherkins, fat beefsteak tomato slices and fan-sized leaves of lettuce, there's no lingering disappointment over not choosing the meat option.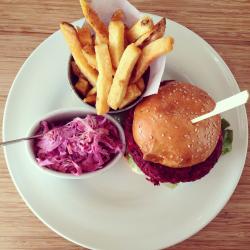 The fat beetroot patty is a dense as any beef burger I've had and is studded with interesting morsels of sunflower seeds, oats and the sharp tang of feta cheese. The slightly sour, creamy buttermilk covered slaw cuts through what should be a fatty dish and the twice cooked chips are pleasing, if a little more like eating crispy coating than actual potato. It's so filling, in fact, that I can't finish it and have to apologise to the smiling waitress as she edges forward gingerly to clear my leftovers away.
As the sun through the window gets stronger and the place begins to fills up with lunchtime parties and grandparents coaxing ketchup smeared toddlers to eat their greens, it's all to easy to slip into a food stupor. Warmed by a frankly delicious cup of coffee (they use Allpress Direct Trade beans here) I'm already planning my next visit…although next time it might be a wise idea to make it into the pool and work off the burger before hand.
Lido Cafe's burger offer of a burger (beef or beet) plus a beer or soft drink of your choice is available every Wednesday in January, see www.thelidocafe.com for more details.