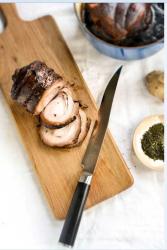 A recipe from 'Yuki's kitchen ' 
Ingredients
1kg shoulder or pork belly joint
1tbsp sea salt
A)
700 ml water
2 leeks
2 cloves of garlic
3 cm fresh ginger
1 green tea in the tea bag
B)
150 ml soy sauce
100 ml sake
50 ml mirin
3 tbsp brown sugar
15 cm dried kombu
150 ml water
Method
1)    Brine the pork: rub the pork with salt and leave for 10 minutes and then dry it by wiping with paper towels. 
2)    Tie the pork shoulder with string to keep its shape or if using an unrolled pork belly, trim off any excess fat, roll, tie tightly and strain it.
3)    In a very hot pan, sear the pork on each side until golden brown in colour. Rinse off the grease with boiling water.
4)    Use a big pot or pressure cooker. Put the pork and ingredients from list A into the pot, bring to the boil and simmer for 50 minutes or in a pressure cooker for 25minutes after the pin stands. 
5)    Discard the green tea-bag from the pot and skim the scum away. Then add the ingredients from list B and bring back to the boil and simmer for 55 minutes or pressure cook for 30minutes. 
6)    Remove from the pot and let it cool down and soak in the sauce overnight in the fridge.
7)    Use a slicing knife to slice thinly (a good thickness to aim for is between 5mm-1cm, it depends on how you like it). It is best to slice just before serving or if you have prepared the dish early, leave the slices in some sauce to soak and keep their moisture.
Yuki's tips
– This dish is much easier using a pressure cooker.
– Try using it as a delicious topping for ramen.
– Stir fry with fried rice or mix it with stir fried vegetables.
 Recipe developed by Yuki Gomi in partnership with Kai Knives of Japan.
Read about our sushi lesson with Yoki