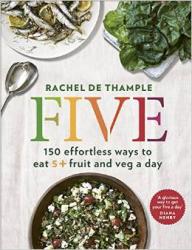 In the interests of full disclosure I've met Rachel, she's local and we've discussed our allotments. She isn't one of those veg enthusiasts who think vegetables grow in Borough Market; she gets her hands dirty, she knows what's in season and what's not and appreciates the effort that goes into getting a seed the size of a pinhead to become a vegetable the size of a small head.
Five a day has been used as a stick for government health professionals to beat the lardy meat eaters for some time now, but many people still have no more idea of what it means in quantity than they do about what constitutes a unit of alcohol. A glass? A bottle? It's a bottle, right?
So it's good that the first thing this book does is to define portions of just about every vegetable and fruit you could think of. An apple portion is…. an apple. So far so simple. A mushroom portion is six button mushrooms; a portion of prunes is two prunes. The important thing is that it's not a lot really, we could all do it.
The recipes here are designed to make 5 A Day fun, or at least tasty and not worthy, and also to be easily doable. And there is some meat, so don't panic, just not a lot and it's lean.
The sections range from all kinds of breakfast stunners,  such as galettes with various fillings, a parsnip and chorizo hash with lime, thyme and fried eggs and my favourite a pumpkin, chilli and halloumi frittata. Along the way there are smoothies and fruit combos for the truly health conscious.
Lunches are tempting, roast squash bites with chilli sauce, roast lemon asparagus with pesto yoghurt caught my eye as well as my gastric juices, but then food that looks good will do that.
Fig, Almond and Orange Blossom Water Muffins, Moroccan Beetroot Soup, Wild Spring Spaghetti and Carrot Cake Scones, are all here  as well as useful themed and seasonal menu suggestions. Each dish is clearly flagged with the number of portions of fruit and veg each serving contains and some even offer the full five portions all in one. Handy.
I blame Nigella for Rachel's frequent use of the verb'tumble', when all she means is'put' or'take out of the bag' – Nigella started that one off a few years back. Using the wrong verbs is la Lawson's trademark style but there's perhaps no need for the rest of us to join in.
Anyway, this is a book stuffed full of great dishes that won't stuff you up health wise, so get your five a day today.
{ISBN:0091959667}