The little known white wines of France's Beaujolais region can be absolutely stunning. Made from the Chardonnay grape, the best are secret delights that beg to be discovered.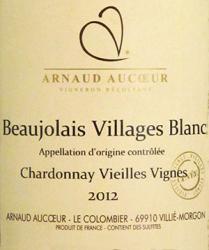 Take, for example, Beaujolais-Villages Blanc Chardonnay Vielles Vignes. Aucoeur 2012 (£11.75 Yapp Brothers).
Pale in colour, fresh and calmly tropical on the nose. Everything about this wine is subtle and right.
Delicate notes of ginger and spice waft over honeycomb to enliven heavenly fruits that dance over the whole palate.
At this price it offers outstanding elegance, balance and sheer class making it Foodepedia's  choice recommendation for 'Chardonnay Day' this year.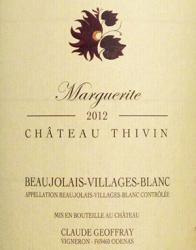 Let's not stop there though. The beauty of these wonderful white Beaujolais is in their distinct personalities.
Harmonious
Displaying a masterful combination of oak and fruit to form a harmonious whole, Beaujolais-Villages Blanc Cuvée Marguerite, Chateau Thivin 2012 (£14.60 Christopher Piper Wines) is a lesson in intelligent barrel ageing.
This is a wine that gives white Burgundies a run for their money.
The generous and full nose announces a palate full of cantaloupe and dried apricot rounded off with a spiced vanilla finish.
Sophisticated
Another confidently made wine with a sophisticated and complex character is Beaujolais-Villages Blanc'Chantemerle' V. Lacondemine 2011 (£15.17 Nick Dobson Wines).
The promise of the powerfully seductive nose is fulfilled with gorgeous flavours of apricot and prune seasoned with peaty depth and resinous mystery.
It's a wonder to discover that, in the hands of savvy winemakers, all this personality can be coaxed from just one grape variety.
Liquid Gold
Finally, no exploration of the white wines of Beaujolais could be complete without experiencing Beaujolais Blanc Terres Dorées (elevage en fut) J-P Brun 2012 (£14.80 Savage Selection).
It's an authoritative statement in Chardonnay from one of the region's top practitioners
Generously ripe stone fruits and inspired oak maturation combine fluidly in the senses to give a wine that is rich and full bodied yet gentle and welcoming at the same time. 
With immense length and charm in abundance it is, in short, liquid gold.
Why these wines are so little known  is something of a mystery as they offer unparalleled value for money. Maybe they are just overshadowed by their more famous (and more expensive) Burgundian neighbours.
For the time being this is a secret that we can keep to ourselves.