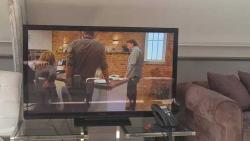 Ever wondered what really goes on in the Saturday Kitchen? Nick Harman gets an invite to watch from behind a camera and finds a show that really is as fun as it looks.
The comedian Greg Davies (Man Down) is huge. I mean he isn't just big, he's ruddy enormous. He towers over James Martin, who is no midget himself, and makes the Saturday Kitchen set look even smaller than it is. And it is small, so small that I am perched in the only place where I won't get run over by a camera, just ten feet from that glass table the slebs and chefs sit around. Greg is at the table joking with James Martin, both of them as relaxed as can be. You'd never guess that when the clock hits 10 a.m. in just a few minutes they'll both be live on air to something like 4 million people.
The floor manager calls out the time, James swings to camera and bang on cue says'Welcome to Saturday Kitchen' and then as the opening credits run, gets set to begin the show properly.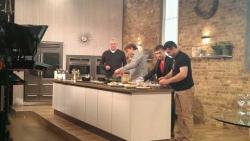 Today Ben Tish of Opera Tavern is on, along with Tim Allen Head Chef of Launceston Place. This is Tim's first time and he's a tad nervous and tells me he spent the previous evening prepping for the omelette challenge.'Working out which hand to hold the eggs, which hand to hold the butter,' he laughs.'It's all about maximum speed.' He's pretty confident, misplaced confidence as it turns out because disaster is waiting around the corner.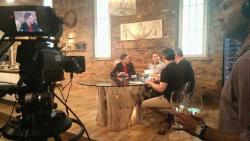 Martin is remarkably fluid at this live telly lark, as he needs to be as any pause is dead air, but he's able to easily swap jokes and comments with the guests and seemingly never at a loss for something to say.
He also listens to what his guests are saying to him. This cannot be easy; especially when at the same time he is also cooking, and presumably has voices in his ear from the director. It is very much a live show, nothing can be erased and there's no going back and doing it again. It has to be spot on and so he has to be almost three people at once.
Respite comes with the pre-recorded bits such as Rick Stein. The main screen facing the stage shows exactly what the TV audience is seeing and as soon as the picture changes to a pre-recorded segment an army of assistants hits the cooking area, swabbing down, cleaning up and carrying stuff away while James cheerfully chats to his guests and occasionally has his make up touched up.
The Saturday Kitchen format was once called Zoo, pioneered by The Big Breakfast on Channel 4. This show is not ever as anarchic as that show was, but there is a similar blurred line between front and back of camera; the crew are free to laugh at what's said and at what happens on stage and their laughter to be heard out there in TV land. It helps everyone relax and have fun.
And there is plenty to laugh about, the guests and Martin interact easily and with someone like Greg Davies on the show, happy to chuck in facetious comments from across the room, laughter comes easily. You wonder if he might go too far, live telly after all, but he knows where the line is and treads it confidently.
Ben Tish does his own bit confidently and well, but then he should as he's an old hand at this lark after all, and his grilled and hot smoked porcini, crisp egg yolk, celeriac and fresh thyme comes out perfect. He's opening a new restaurant soon focussing on Basque cooking over a grill and that should be something to look forward to if my experience of that region's cooking is anything to go by.
James does a bit of a steak masterclass with Greg, and what they don't eat is passed behind the camera to me. Hey, I'm not proud. It really is a perfectly cooked piece of quality rib eye steak and I even get some of the wine too. Nice.
Tim, the newbie, does roasted hake with braised ham hock, mustard sauce, pickled cucumber and warm potato salad and shows no sign of nerves. Only a small bit of that dish is left uneaten unfortunately but as VT runs (I am now well up on the jargon) a lone figure creeps out from behind a camera and tries what's left. It's rather good.
The omelette challenge is always a bit of fun but can also be a nightmare. One famous chef forgot in the excitement and heat of it all that he on was live telly, well before the watershed too, and swore horribly with terrible results for his career. It's not big and it's not clever kids.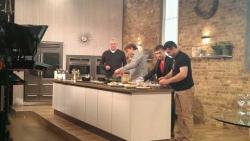 Tim easily beats Ben but then discovers he's only used two eggs not three and is disqualified. If ever anyone was going to swear then this was the point to do it, but even when it's safe to let rip Tim still maintains his cheerfulness and clean language.
Time flies by and it's time for Food Heaven or Hell. Greg claims he has only just discovered lobster, which when I challenge him about during a video segment, he swears is the truth. He hates monkfish, claiming it is too meaty. He gets Lobster Thai curry with butter basmati rice and coriander cress and James mistakenly puts too much chilli in rendering Greg speechless for once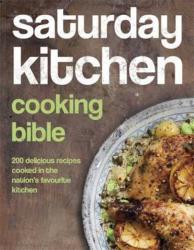 As the credits roll, Ben, Tim and I all dip a finger in the lobster sauce. It is indeed too hot by a very long way. Still if that's the only mistake in a live show, there's not much to worry about.
I leave with respect for James Martin, he's a good chef and a good presenter and he makes entertaining live telly. I also leave with a copy of The Saturday Kitchen Cooking Bible which we'll be reviewing soon. If it's like the show, it will be full of good stuff.