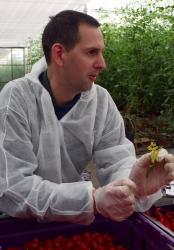 The large bowl of tomatoes invites interest. Its contents, nearly spilling onto the table, are ripe, fragrant and strikingly assorted. On the wall nearby is an image of a diamond shaped island, the 'earth' made of tomatoes fringed by a 'sea' of cucumbers – a depiction of the destination I've sped to during British Tomato Week, aboard catamaran, 'Light Rider 1'.
The Isle of Wight is England's largest island, and one of its sunniest spots. Once an independent kingdom, its ancience is apparent in fossilised dinosaur footprints. Teeming with auburn squirrels today, it has also been home to Queen Victoria, was the launch-pad for the hovercraft, and is known for its festival and Bestival – all facts which overshadow its not insignificant role in supplying over half the UK's home-grown organic tomatoes.
Sea, then Garlic, then Glasshouses
A patriotic taxi driver, whose meter reaches £6 before our press pack has left the pier, is interested in our destination. 'I hate seeing bloody French apples in supermarkets,' he barks in approval when hearing about the success of the island's tomato crop. Pausing to let incongruous double deckers pass in these narrow lanes, we weave towards Arreton. Turning into Wights Salads Group, 10-minutes drive from the island's garlic farm, we see the first, shiny glasshouse which in total span 26 hectares. It brims with tall tomato plants, sown at a rate of 40,000 per hectare.
Some of the fruits, which are super-rich in nutritious, anti-cancer, anti-oxidant, lycopene, are crafted into products to be sold under the label, The Tomato Stall. These include additive-free 'Sunshine' yellow tomato juice, potted garlic oak roasted tomatoes, and a sweet, thickly-textured 'honest to goodness' ketchup. The pure tomatoes are available in your local supermarket.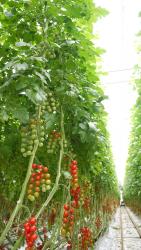 Young Tomato Grower of The Year
Affable and knowledgeable, young tomato grower of the year, Brian Moralee meets us to takes us on a tour of the conservation-grade farm. It is bordered by a lake and meadows, the habitat of hoverflies, bees and, increasingly, buzzards.
We cleanse hands with a lathering sanitizer, then step into the first of several glasshouses. A slight whiff of sulphur hangs in the humid air, which Moralee hopes will soon be heated by geothermal energy. He also warns with a smile that the paper white overalls we must wear might be a little small tight 'because they're made by the Chinese.'
There to aid pollination, farmed British bees dart and stir. But Moralee is reassuring. 'I've only been stung three times in 18-years,' he says, checking a hive. Around us, workers from 20 countries cool in shorts listen to 'Sweet Home Alabama' as they tend to the crop of Piccolo tomatoes. It is an amusing choice of track given that region's crops are more likely to include peanuts, cotton and corn. Morales mentions, even for their lunch, workers are contractually forbidden from bringing in tomatoes from elsewhere for risk of contamination with their virulent pest passengers.
Partly due to the reflected light from the surrounding sea, and partly due to the considerable amount of sun, the island affords a long growing season from March to November. As well as other partnerships, Wight Salads Group maintains a 13-hectare orchard in Portugal to plug the need for supply by supermarkets, and, since 2008, one hectare of tomatoes under sodium lighting.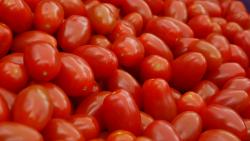 Volume to Flavour
When Moralee came to work aged only 20, only round tomatoes were of interest. 'But now the agenda's shifted,' he says, 'from sheer volume to flavour and giving customers what they want.' So we finish our tour in the most astonishing glasshouse so far, where a broad wealth of varieties are trialled. The PR advises that most cannot be photographed. Is that because they're genetically modified, asks a fellow writer? 'No, GM's not of interested – and I hope it stays that way,' urges Moralee.
Lines of tomatoes of multifarious shapes, colours and textures are anonymously marked by number, not names. Some look like apples. Moralee clicks open his Swiss Army penknife and halves the flesh of a chestnut like Green Tiger – 'ideal for cooking, even to BBQ.' It has very red, tough skin but soft, sweet, sopping wet flesh.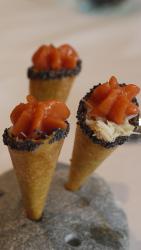 A Michelin-Starred Detor
We sweep along the coast to the island's only Michelin-starred restaurant – Robert Thompson at The Hambrough at Ventnor Bay. The modernised villa overlooks the art deco Winter Gardens. Thompson's backer recently bought this for £1 with the intention to gentrify it into two restaurants and a hotel by 2014, while maintaining public access to the auditorium with sprung floor. This will be in addition to his portfolio of The Hambrough, Pond Café and Villa Lavina apartments.
Charged with the brief to craft a celebration of the island's tomatoes, Thompson, who won Michelin's approval aged 23, reveals both Moraelee's skill as a grower and his own skill as a chef over seven courses (including two desserts).
To very appetising effect, very local crab is collaged with Cherry Tomato gazpacho and iced vodka, served in poppy seed-fringed cones, while 'tagliatelle' of mostly Green Tiger tomato gel, unrecongisable from earlier, supports ripped Mozzarella from British Buffalos. The latter contrasts conventional tortellini with braised oxtail and surprisingly light, sautéed foie gras with smoked tomato fondue. The fondue is so good, I am left wanting more. With this, sommelier, Bob Bobinski selects the meal's most unusual wine pairing – Uruguayan Pinot Noir and Chardonnay from Bodega Marichal, which evokes, in colour, the tomato fondue.
Again, very local seabass baked with Parmesan and tomato 'Viennoise'-style gains moisture from concentrated fish bone stock, and proves the simplest, most natural-seeming dish. This is followed by overnight-roasted veal loin with distinctively pepper-like in shape, San Marzano tomatoes.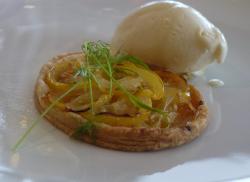 Penultimate, although tasting for some too close to the animals, deliberately barely aged cheese from goats in Rocamadour, South-West France, frozen into ice cream, tops yellow tomatoes on fine pastry. A brave and weirdly moreish ensemble. Finally, baked tomatoes are stuffed with a paste of nuts, fruits and spices, including dried apricots, almonds, cumin, caraway and coriander – a heady gathering of flavours, apparently inspired by venerable, three Michelin-starred (largely vegetable) restaurant, L'Arpège.
The day has been remarkable: seeing good tomatoes, grown with care, transformed into great dishes.