If it's hot outside you need to keep hydrated and lassis are the perfect accompaniment to Indian flavours. Anjum Anand's blackberry lassi is light and refreshing- served over ice it's an ideal barbecue drink.
Serves 2
300g blackberries
200ml natural yoghurt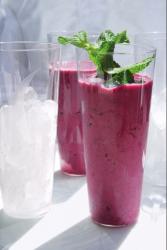 ½ tsp lemon juice
1 ½ – 2 ½ tbsp sugar (depending on the sweetness of the berries)
Ice cubes and mint leaves, to serve
Purée the berries, yoghurt, lemon and most of the sugar with 140ml water. Sweeten to taste. Pour through a sieve into glasses to remove the seeds. Serve chilled over ice cubes, topped with a mint leaf.
Images and recipes extracted from ANJUM ANAND'S 'INDIAN FOOD MADE EASY' and 'ANJUM'S NEW INDIAN' www.quadrille.co.uk
Photography © Vanessa Courtier.
Anjum's range of ready-made sauces, The Spice Tailor, is available to buy in Waitrose stores nationwide and online at www.thespicetailor.com
Try Anjum's other barbecue recipes:
Indian chopped salad (Kachumber)