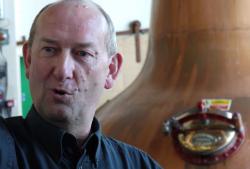 We stand by the shores of the Sound of Islay gazing towards Jura's paps. 'You wouldn't want to have been here, Saturday' says Billy Stitchell, Caol Ila's distillery manager. 'You'd have been blown away!' Caressed by the gentle gulfstream which verges on mild, it's hard to believe him.
Established in 1846, the whitewashed distillery, bleaching into sky by blazing sun, is a powerhouse bringing smouldering Scotch to blends such as Johnnie Walker. But in the past decade it has become a significant malt in its own right and production is set to expand to an amber river of 6.4 million litres per year.
Stitchell is the third generation of his family to work at the Queen of the Hebrides' largest distillery of eight. 'I've seen whales, basking sharks and otters,' he says, looking beyond Colonsay to Mull. 'And I remember thirty dolphins playing here a couple of years ago…'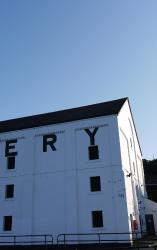 Save for dabblers, all appears calm today. Despite Islay being the first place to show evidence of humanity north of the border, Stitchell mentions deer outnumber people on these islands by at least a thousand. But this wasn't the case when lead and silver were mined in the 1830s. Then, Islay's population peaked at 15,000 (now just 3,000).
'In rutting season young bucks swim over when the tide is right, dry off, get their energy back for half an hour, then set to work,' grins Stitchell. Recalling his words later, I reconsider my order of local venison. Out of the corner of my eye, the Feolin ferry traipses across with less impetuousness then such rinsed, salted, frisky beasts.
Mercury Rising, Spiritual Vantage
Inside the still house are six copper alambics, painstakingly crafted in 1974, the year Stitchell began his employ. Replicating originals exactly, they radiate warmth. Indeed, the room's thermometer shows mercury rising to 28 degrees. Stretching metal floor to ceiling, windows frame the view praised by connoisseurs as whisky's finest. Above, the mash room smells oddly and exotically of artichokes and asparagus. One broad domed kettle suspends 13 tonnes of grist within 44,000 litres of Loch Nam Ban's limestone filtered splash. 'We'll brew 23 of them a week,' says Stitchell, nonchalantly.
We wind past a calendar of, of all things, gorillas, then floppy pot plants towards Stitchell's spacious office. A cabinet features a timelines of malts dating back a century. 'You should be mean with water' advises Stitchell, cradling a small jug shaped like a still, which I'd like to thieve. His sentiments are echoed by Classic Malts' Heritage Director, Dr. Nick Morgan: 'You put water on a fire, and you get smoke.'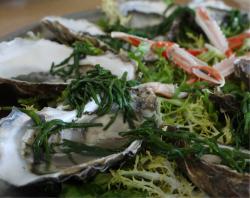 As an aperitif to a subsequent lobster cooked in Scotch, we partner the heady, handsome brine and peat laden 12 year-old with long, charcoal gilled Islay rock oysters, swathed with samphire. Confidently rejecting the axiomatic equation of spirits plus shellfish leads to stomach upset, Stitchell drizzles whisky freely into the natural bowl of the bivalve's half-shell. The marriage of the island's pure water, fermented, distilled and matured in casks with its pristine languid, cucumber scented sea petals proves utterly sublime: sweet, succulent and invigoratingly mineral.
As we slip boozy bivalves, inhibitions falling away, talk turns to Islay's former cheesemaker, whose aphrodisiacal products allegedly led to a baby boom according to guide, Tricia. She is incidentally dazzling in Caol Ila tweed and scarlet shoes.
Despite packing 61.6% of alcohol, with bracing scents of coal tar soap and ripe, squeezed citrus, cask strength Caol Ila never overpowers but actively compliments local fleshy langoustine tails butterflied on moist, crumbly sugary rye. Also rising beyond 60% is Stitchell's strictly released unpeated expression. Hedonistic: supple and buttery, it brings moisture and acidity to smoked, ruddy venison curls. I am glad that they do mate. Finally, dabbed from a surgen's bottle, raw spirit, as innocent looking as water, but not for sale is free from softening oak. Suggestive of aniseed, with the vague feel of puppy fat, its blisteringly potent palate regurgitates flavours of peat, grain and bizarrely, mango.
As we prepare to retrace the distillery's winding, single track (the whisky still departs by boat, albeit tankers now) a fellow scribe, celebrating his birthday today, wishfully asks Stitchell, 'is there a job for simply sitting sipping Scotch…?'
Black Gold, A Thousand Men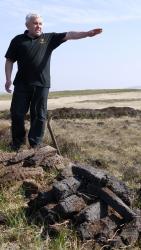 The following morning we meet Iain McArthur, a whisky man of four decades with a longer familial whisky lineage. He puts his back into showing us how peat was traditionally dug using a bespoke cutter, cow horn as finial. 'I've never seen peat so dry' he says, approving of its easy lightness but disapproving of the unseasonal climate. As well as tourist duty, McArthur maintains a smallholding of 50 Limousin cows.
We motor on to Port Ellen on the sparkling south coast, whose distillery has become a place of pilgrimage for whisky lovers including Japanese author, Haruki Murakami. Established in 1825 following favourable changes to the Excise Act, it was decommissioned in 1983. Reasons include lack of suitable water, an overall glut of whisky from the island and even a potentially inferior quality of product compared to its siblings. Regardless, dwindling reserves, released for hundreds of pounds are invariably instantaneously snapped.
Amid sweet seaweed aromas, Port Ellen's long, squat, simple sheds form Scotland's only street with warehouses fringing either side. Beside, a modern maltings produces peated barley which helps define the gustily smoked character of Islay's whiskies. Tall chimneys, recently rendered taller on local request, carry the dust and peat perfume far into the ether.
At nearby Lagavulin Bay, we observe the now romantic, but once tumultuous ruins of 13th century castle, Dunyvaig. An outflow of water from the cooling process causes Jacuzzi like bubbles to gurgle under the jetty upon which we stand. The Lords of the Isles anchored their fleets here, overseeing departure of a thousand men to join Robert the Bruce at Bannockburn.
We meet vigorous and sparky distillery manager, Georgie Crawford, who tells us she can trace her roots to the hereditary storytellers of the Lords of the Isles. But although she was raised in Port Ellen's Ard View Inn she only only recently returned to island life from Edinburgh hospitality. 'If you told me a few years ago that I'd move back to Islay and make whisky, I'd have said you must be joking,' she says.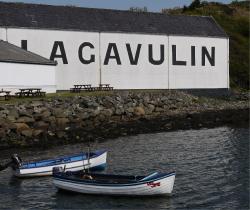 Ireland is hazily visible 28 miles to the south. As he traces the distant shore, Dr. Morgan informs us that distilling probably came to Islay with Ireland's Celtic monks. He finishes his compelling lesson by mentioning that Lagavulin is most likely the cradle of Scotch.
Tricia appears again, this time in alas more sober shoes. Once two distilleries, Lagavulin dates from 1816 she says, although illicit stills operated for at least six decades prior. The 'quaint' buildings are 'big on character' she proclaims with perfect annunciation, before taking us into a hall where a malt mill resembles a Berkel ham slicer in glossy finish and startling colour. Further on, alambics evoke outsized toffee coated pears. A plastic owl stands permanent sentry, its glazed eyes overlooking waves crested with white horses.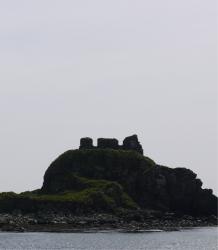 After a long lunch of crab claws, flowering chives and smoked trout we partner Lagavulin 16, released from its distinctive bottle with red stamped collar, with salted caramel truffles from boutique chocolatier, Paul A Young. Its peaty pout is frankly full frontal, TCP medicinal and eventually suggestive of Lapsang Souchong. But its burn is gentle and lovably enduring. Smoke is calmed by caramel, and salt is heightened and elongated. Meanwhile the distiller's edition, finished in Pedro Ximénez casks from the syrupy, figgy sherry, is more compliant: aromatic and thickly textured.
Now slightly marinated, it's time for us to take to the sea upon a fast inflatable. But first, on leaving the distillery, I learn from Lagavulin's beaming receptionist that she discovered mounds of irregularly shaped, but perfectly wholesome oysters discarded by Loch Gruinart when camping. If only there was time to go…
Sea to Sours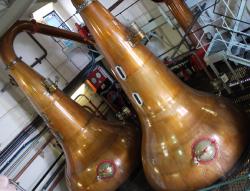 We plane at 40 knots a mile out from Lagavulin, passing Ardbeg, halting to gawp at a statue like stag as it gawps at us. Despite the vessel spending more time airborne than in the water, passengers survive your correspondent's moments at the helm.
Even distillers accept Islay's peaty whiskies are not initially for the faint hearted. Later that evening, prepared to the exacting recipe of Tony Conigliaro, master mixologist of Islington's 69 Colebrooke Row speakeasy, we recreate whisky sours of Lagavulin, liquorice, citrus, egg white and bitters. A dramatic means of taming an intense dram.
From tales of frisky deer to airborne aquatics, Islay offered a brilliant break away free from the mainland. Fusing 'meroir' of pure water and terroir of peat, Islay's unique spirit had definitely woven its mighty magic…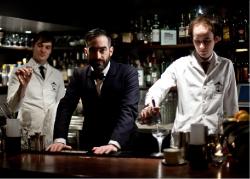 Tony Conigliaro's Lagavulin Liquorice Whisky Sour
50ml Lagavulin 16 year old
25ml lemon juice
25ml egg white
15ml liquorice syrup
3 dashes Angostura Bitters
Liquorice salt to garnish
Dry shake the Lagavulin, lemon juice, egg white and liquorice syrup
Add ice, shake again
Pour into a coupette
Add three dashes of Angostura Bitters and liquorice salt to garnish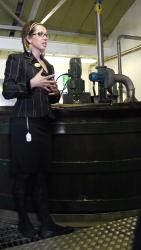 Visit
Rest/Restaurant
Listen
Cruise
Buy
Daily flights to Islay Glenegedale by BA and Flybe.