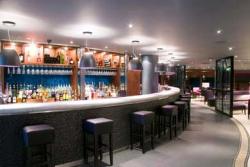 The point of pop ups is, of course, to pair restaurants with a complementary venue so they can introduce customers to each other. They are also the latest thing for getting press attention – which reviewer is going to turn down the culinary equivalent of a buy one get one free offer?
The arrangement should be roughly reciprocal so my first over-attentive concern was whether any bar would be good enough to pair up with Benares, to avoid tarnishing its shiny Michelin star.
Meza is, I suspect, as good as it gets. Softly sophisticated, its regular clientèle on this midweek night was out for an understatedly stylish evening. Well-dressed, well-behaved and no doubt well-paid Londoners sat almost invisibly at a long curved bar, on low sofas in sections shrouded by floaty, sheer pomegranate-red and pale amber drapes, and on dark banquettes and colourful stools. It was effortlessly discreet and, with mood lighting and modish music, this was as far as you could get from the throbbing, heaving, sweaty bars typical of this unprepossessing part of Soho.
First things first and that must mean the cocktails. This being May, it's the alphonso mango season and, as the world's most committed addict and with a box of 12 waiting to dribble down my chin at home, I couldn't resist the mango and chilli caipiroska. The chilli, muddled (inevitably) in the bottom of the glass, added a jewel-like glint of red amidst the pinkish-golden glow of mango – and delivered an increasingly spicy kick every time I drew a mouthful up the straw. Its sweetness contrasted beautifully with the first set of canapés that introduced us to the bar menu.
The emphasis is on sharing tapas-style – it's more affordable and right on trend. A tandoori broccoli spring roll with chilli vinegar owed more to Thai cooking than Indian but was fresh and light; the Rajasthani crisp okra (in a flutter of tempura-style batter) was light as air and similarly pan-Asian, as was the Kadhai cottage cheese (paneer by another name). It was exactly the sort of food bars should serve: imaginative, satisfying mouthfuls that keep you sober enough to appreciate more. The only disappointment was the sweet chilli dip which looked and tasted as if it had come out of a branded jar.
On to my second cocktail: a lychee and rose petal martini. Headily perfumed, it seemed to me to be the sort of cocktail the fragrantly stylish near-royal Pippa Middleton might provide at her soon-to-happen (if you believe the tabloids) hen party. Unashamedly feminine and a class act, perhaps it, too, deserves its own Facebook appreciation page.
Next came chunks of tempered lamb boti kebab, chicken tikka and achaari duck supreme, each marinated in a different complementary blend of spices. I eschew chicken in restaurants – it's so easy to dress it up at home – but I'm always keen to do my bit for Foodepedia. Taste it I did. Glistening with moistness, it zinged with a dollop of freshly blended mint and coriander chutney. The duck breast, mellowed in onion seed, cumin, fenugreek, coriander and mustard oil, came with a twirl of vanilla beetroot chutney, a perfect foil for the richness of the duck. The lamb was soft, slightly pink, and full-flavoured. All meat at Atul Kochhar's restaurants is halal and I'm increasingly impressed by its quality.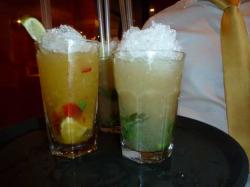 Our waiter (the service is exceptionally good) suggested a passion fruit and chutney martini would be a suitable accompaniment but a nearby drinker had said it lacked oomph, the chutney notable by its absence. It pays to tell the truth and commenting on this brought me a sample of the chutney (more a thick syrup) to sniff (it was reassuringly chilli-fuelled) followed by a bespoke version of the cocktail. It shimmered in my mouth. Perhaps others are more cautious but I would have thought most Meza customers were well-travelled enough to take some heat. Don't tippy-toe around it is my advice to the bar.
I did tippy-toe into the restaurant where well-spaced tables and spill-over music from the bar ensure that even the most animated conversations are hard to overhear. No frills tables are bare but for a single oil candle centred on an eye-catching silky, striped runner in colours that echo the drapes. It's simple but effective – and all that's needed when the star of the show comes expertly arranged in bowls, on boards and in baskets.
Having worked through several options in the bar I assumed I'd dip into a couple more dishes and that would be that. The ticks on the menu I took home showed that I went on to try more than an Indian tiger's share.
Goan goat koftas with lavendar-peanut honey – or prawns simmered in coconut ginger sauce, I wondered. The prawns won as they were likely to be less heavy. Jitin Joshi, executive chef for the Benares group, explained that coconut (common in south India as it grows on the coast) keeps local dishes tantalisingly light. Pretty in pink against the pale luminescence of softened onions and flashes of dark green curry leaves, the prawns were succulent and sweet; the sauce subtly but intensely fishy like a highly refined bouillabaisse.
The deep purple coats of baby aubergines glistened in a dark, rust-coloured sauce enriched with black onion seeds, its sweetness balanced by a squeeze of lime. Heavenly. Crisp soft shell crab with a lemongrass mayonnaise – a signature dish at Benares – looked so decorously decorative that cutting into it felt like slashing a still life painting. Light but highly flavoured, it held its own even after mouthfuls of gamey duck. Wok tossed prawns took me beyond the Indian subcontinent again; ginger, spring onions, garlic, pineapple in a dash of soy with a sprinkling of coriander made the whole thing vibrant. Naan, roti and paratha were perfectly cooked – and essential for scooping up every last drop.
And then came what I was told was the best dish of all: taster portions of four desserts. Green cardamom pannacotta was the lightest confection and utterly dreamy. I'm no chocoholic but the chocolate cinnamon mousse was so extraordinarily intense and dry that the accompanying cherry compote struggled to have impact. Saving my favourite till last, two triangles of kulfi – pistachio and, yes, alphonso mango – were soothingly cool. Cheffy swooshes of mango and strawberry coulis and a sprig of mint added artfulness.
A glass of Atul's brand new signature sauvignon blanc – potent, heavy and sweet-sharp – was the perfect partner for my high class and exceptional experience. And I'm normally a red wine drinker.
I won't spoil the surprise of the restaurant's final little touch. But I will warn you it's not edible (and I mean that in a literal sense).
As Jitin Joshi explained, Atul Kochhar's skill is in balancing spices. His food is neither hot nor mild – and nor does it sit indifferently in between. It is skilfully judged, power-packed with flavour, beautifully presented and impossible to resist.
Prices range from £6 for the dark, rich, black lentil speciality (simmered for 16 hours yet the tiny lentils retain their shape and bite) to £10 (for the duck, lamb, prawns and goat). Breads and rice are £4. Wine from £18.50 to £47.00 a bottle (£4.85 to £12.25 a glass); cocktails are £8.50 (£6.50 for the non-alcoholic tropical passion). The bar is, of course, fully and extensively stocked.
If the grazing menu at Benares is beyond the reach of your wallet (£79 per person without the recommended wines) popping into the pop up at Meza is a fabulous way of experiencing Atul Kochhar's sparkling skills without breaking through the overdraft limit.
The Benares pop-up at Meza is open for dinner, Monday to Saturday until the end of June 2011. Atul Kochhar is also at the Meza Private Dining Room (complete with 52" splasma screen offering a live stream from the kitchen) so you and up to 43 guests can experience, as the menu says, "all of the theatre with none of the heat".