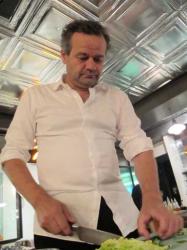 Mark Hix and frozen seafood are not words you would necessarily associate. I still have trouble now. But here he is, in the smart and sexy underground bar below his Soho haunt, dressing that most prawny of dishes, prawn cocktail, for Birds Eye's emperor king prawn launch.
You can't disagree with the fact most families use frozen seafood, whether it's a packet of tiny, chewy prawns or a boil-in-the-bag cod with a parsley sauce, there's no doubt it's a popular way of getting your weekly dose of dab, despite my own misgivings. Plus, with recent campaigns highlighting the plight of fish stocks and catch wastage, Hix is backing the brand with one eye on their sustainable and responsible fishing promise.
But I can't help initially feeling a little uneasy at the thought of Hix getting involved. This being the man who spent 17 years with Caprice Holdings, responsible for seafood goliaths like J Sheekey and Scott's. A chef I first became aware of when he wowed the judges with a Stargazy Pie and perry jelly on the BBC's Great British Menu. A man who has always championed seasonality and freshness.
Those invited along to the launch at Mark's Brewer Street Hix restaurant, got to try five dishes he's created to help people be more imaginative with the new ingredient, which are larger than the king prawn. There's a bright spring vegetable and emperor prawn soup here, a fresh and fragrant Vietnamese emperor prawn salad there. Plenty of variety with what is clearly a quick and easy freezer option for that quickfix post-work weekday meal. And I have to agree with the promo gumph – the prawns are plump and flavourful, although I won't lie, my favourite dish on the menu that afternoon was the (thankfully) prawnless Seabuckthorn berry posset, A sweet and milky cream beneath a tart, bright orange gel.
On the plus side, there's no need for deveining the prawns, which are pre-peeled, they are farm fished from cooperatives, meaning there's no risk of by catch, and can be thrown into the pan from frozen. Mark also argues that, unlike many other frozen prawns, these emperors are caught, boiled, peeled and frozen within two and a half hours. Pretty impressive, and a method not unlike that used on peas, which retain freshness through almost immediate freezing after being picked. I might have my own, middle-class apprehensions, but with Hix backing them, I can sleep a little easier.
The West Country chef will be using Birds Eye's emperor king prawns on his Hix Restaurant and Champagne Bar menu during Selfridge's month-long Project Ocean, which aims to raise awareness of issues such as sustainability, over-fishing and marine protection. Birds Eye Emperor Prawns are available in supermarkets, priced £3.99 for 175g.