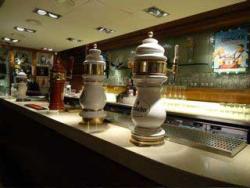 'Kann ich ein Bier bitte haben?', even the napkins at the Bavarian Beerhouse have German phrases on them which urge me to ask 'can I please have a beer?'. Scanning the room, I can't figure out if the Germans are overly generous or if they're trying to get rid of an overstock of the stuff. I can only just about see one gentleman over the rim of his 'jug' of beer, yes that's right, jug. But it seems that is how the Germans do it, with a stein as it's called holding a whole liter of beer and clocking in at £8.10. With up to eight beers to choose from it's no wonder the Bavarian Beerhouse are spreading fast.
Not only is Bavarian Beerhouse famous for beers, they are also notorious for their German Schnapps, the distilled alcoholic beverage made from fermented fruits. The more popular fruits to ferment in Germany are apples, pears, plums, and cherries. I opted for Apfelkorn (the apple one), and was pleasantly surprised. Served as a shot, Apfelkorn tasted like a sweeter version of Apple Sours and gave a nice apple after taste.
Photos of how the dishes are actually presented accompany the menu, these are handy visual aids for customers who are oblivious to Bavarian cuisine. I am one such customer, fortunately I had been advised to try the white asparagus beforehand.
The white asparagus is all the rave at the Bavarian beerhouse this season, freshly imported from Germany it is amongst the foods that Germans value highly. As opposed to green asparagus, white asparagus is grown in the dark and has a milder flavour. It is the perfect food to detoxify with as it's high in calcium and iron content and I opted for this healthy seasonal treat in the form of a soup. This was light and creamy with a stringy texture, a reminder of light foods to be enjoyed during the summer season. The flavour itself was mild and when accompanied with a warm, soft white bread roll it seems the perfect start to any meal.
Although white asparagus soup is traditionally served with Schnitzel (escalope) or Black Forest cured ham and hollandaise sauce, for my main course I chose white asparagus served in butter with boiled new potatoes and a sprinkling of chives. Although the butter proved to be a bit too indulgent, the new potatoes complimented the mildness of the asparagus well and added thickness to its slippery texture. The white asparagus certainly was an appetizing choice and I recommend it to anyone who wishes to try a traditional Bavarian delicacy.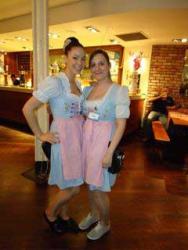 Another dish sampled was the vegetable schnitzel. This consisted of a mix of vegetables baked and topped with breadcrumbs, with a side of mashed potato, herbal dip and a mixed salad. Delicious to say the least, this particular dish is a true pioneer in Bavarian cuisine, not only is it healthy but the mix of flavors from the selected vegetables and herbs creates a full-flavored meal.
Overall, the staff were very attentive and the waitresses all have a smile on their face as they dart around from the bar to the tables and back in their traditional German 'Dirndl' costumes and hair tied in plaits. I was also surprised to find the back of their menu advertising similar uniforms, aprons and fake blonde plaits to buy as souvenirs. An option a group of men decided to take up, hopefully for their wives and girlfriends.
The Bavarian Beerhouse is simplicity at its finest with the seating area consisting of long wooden benches which gives off an authentic German beerhouse feel and the rest of the wooded interior creating a homely effect. The traditional German music playing in the background is subtle, unlike the life size deer head attached to the wall opposite the bar, a reminder that it is definitely a German beerhouse you are sitting in.