Camden live music venue and diner The Blues Kitchen are looking to kick off my favourite season by joining forces with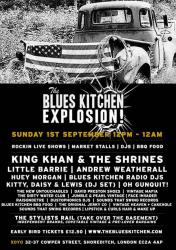 sister venue XOYO in Shoreditch to host'The Blues Kitchen Explosion', a unique festival of BBQ, music and fashion. On Sunday 1st September 2013, for one day only, XOYO will be transformed into a hip vintage fashion and record market and live music and soul food event, rolled into one.
From noon until 5pm, it will be all about vintage fashion and culture. The Blues Kitchen Explosion has enlisted the best vintage fashion and culture vendors in the capital for the event including: Jumble and Pearls for homeware, clothing and accessories from the 1950s to the 1980s; shoe designer David Preston whose traditional handmade shoes grace the feet of some of the biggest names in fashion and rock'n' roll; and cutting-edge wardrobe sale The Stylists Rail, a carefully curated collective of stylists, stallholders and vintage fashion aficionados. There will also be vintage hair design and make-up by Lipstick & Curls, who can create a look for the night ahead, be it a set, up-do, pompadour curls, pretty bangs or neat rolls. A gentleman's barber shop will offer cuts, shaves and styling throughout the day.
Vinyl collectors and those of us that love the back-spasm inducing sport of crate diving can rejoice: there will be market stalls full of records just waiting to be rediscovered. Sounds that Swing Records (who stock the finest selection of Rockabilly, Surf and Garage bands this side of the Atlantic) will be there, as will vintage record and t-shirt purveyors Dirty Water Club.
Other music retail highlights include The New Untouchables for underground modernist and sixties music culture, and Raison D'etre & Dustaphonics DJs , who will be there to mix a wild blast of original soul and rhythm 'n' blues from the 1950s and '60s, as well as hosting stalls selling a curious collection of vintage goodies.
The Blues Kitchen will be on the XOYO rooftop and terrace all day, serving its ever-popular soul food and Creole barbeque menu inspired by the crew's trips to the Deep South. There will be St Louis pork ribs (£3.50), quarter smoke-roast chicken (£3.50), Cajun-style potato salad (£2) and smoke-roasted halloumi kebabs (£3.50). Camden food vendors, Original Jerky, will also be there with their cult meat snacks. In keeping with the theme, cocktails will be American classics at £7.50 like Mint Juleps and Sazeracs.
From 5pm to midnight, The Blues Kitchen Explosion will put on a night of live music from headline acts King Khan & the Shrines (Live Party Rhythm n Blues), Little Barrie (Live Surf Rock N Roll), Huey Morgan (Rock n Soul DJ Set) and Andrew Weatherall (Special Rock n Roll/Rockabilly set) and sets by The Blues Kitchen Radio DJs, Oh Gunquit! (Garage Rock N Roll), and Kitty, Daisy & Lewis (Vintage DJ Set). The Blues Kitchen will be serving its cocktails into the night along with some good ole' fashion real American comfort food to soak it all up with.
If you're reading this and thinking "hey, why just 1st September?!" I suggest you visit The Blues Kitchen, the spiritual home of  Rhythm n' Blues in London. Open since 2009 and specialising in authentic American juke box fare, if you can, check it out. It'll make you feel like you're in the True Blood opening credits.
What: The Blues Kitchen Explosion
What: Rockin' Live Show/ Market Stalls/ DJ's/ BBQ Food
Where: XOYO, 32-37 Cowper Street, Shoreditch, London EC2A 4AP
When: Sunday 1 September
Time: 12noon to 12midnight
Price – Market:(12noon to 5pm) = Free Entry
Price – Music: After 4pm tickets priced from £12.50
Tickets: Click here