As a child I always coveted the company of a jolly snowman. I did not have Aled Jones aspirations and had no desire to go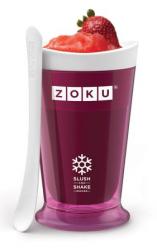 Walking In The Air. I just really, really wanted a Mr Frosty slush maker. And did anyone listen? Did they heck. I was lucky if I got my tongue dyed blue by a sneaky Slush Puppy at the cinema.
But now I'm all grown up and I can, rather paradoxically, indulge in all the childish behaviour I want. So you can imagine the glee Zoku's latest gadget generated in this particular frozen-delight deprived kidult. Granted, it's a rather sober-looking slush machine, lacking a novelty shape and a cute-verging-on-the-creepy facial expression, but hey… It makes slush!
Although you do have to stick the double-walled cup in the freezer and wait for the super-cooling magic liquid to freeze. Zoku claims that you can make a spoonable semi-freddo average out of almost anything, although my failed attempt to jazz up breakfast with a slushy orange juice just produced a'Very Chilled Drink' and induced brain freeze.
For best results, the liquid you pour in should already be cold – and the more sugary, the better. If you're a fan of diet sodas, you're out of luck – artificial sweeteners prevent the crystallisation so vital in slush-formation. A sugary concoction make with rose syrup yielded a better beverage than the OJ – and I'd imagine elderflower cordial would work a treat.
So how does it work? You pour in the drink, wait a minute, then use the included plastic spoon to scrape the ice crystals that have formed on the walls of the cup into the still-liquid part and stir to'seed' the solution. The process is a bit like those crystal-growing science kits, or those cardboard trees you pour water on then watch burst into'flower'.  Another pair of childhood joys I was deprived of.
Now I've got my Slush and Shake Maker, though, all's right with the world – at least whilst I'm doing my'Mad Scientist' routine over an icy agglomeration of Dr Pepper and Ben & Jerrys, or shouting'freeze' like a superior sourcerer as I stir summer fruit squash to semi-solidity.  It's also rather pleasant to dash a shot of spirit into granita-like frozen coffee – at the very last minute, of course, or the alcohol acts as antifreeze.
Milkshakes, tea, Panda pops, and rather posher concoctions can all be frozen in this clever contraption. It's compact, quick and easy. It does what it says on the tin. The only difficulty is dealing with the brain freeze. It's a shame it only sorts a single serving, or super-sized slush-fests would be on the agenda. But then, I didn't like sharing as a child, so I'm happy to keep my new toy all to myself. After all, it's been a long time coming.
Zoku Slush and Shake Maker is available from Prezzybox and costs £19.95