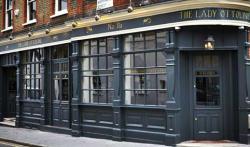 11A Northington St  London, Greater London WC1N 2JF www.theladyottoline.com
Lucy Self finds herself intoxicated by The Lady Ottoline. She's just not sure what to call her…
A quick google of the word'Gastropub' and the handy hub of information that is Wikipedia will tell you that the term was coined in 1991 in relation to The Eagle pub in Clerkenwell. (David Eyre and Mike Belben took over the kitchen and reinvented the wheel by serving restaurant quality food in a traditional British boozer.)
It will also tell you that before then, the fare tended towards the more basic (ploughman's, pies, bangers and mash, roasts and our personal favourite, scampi and chips in a basket); and that this bold move'reinvigorated both pub culture and British dining'. Whilst we can't vouch for that (back in 1991 we thought wrapping a prawn in golden batter was pretty revolutionary), we can say that a food world without gastropubs has become unimaginable.
In the current culinary climate, a 'pub' can do many things to gain the 'gastro' prefix. Sell a homemade scotch egg at the bar (preferably with a relish formed from an obscure English berry), serve a'stripped back' menu of pies made on the premises, offer three hundred gin varieties and fried chicken; or coming back to the original definition, simply dish out exemplary food that quite often deserves (and increasingly gets) a Michelin star.
Because of it's many and confusing faces, we're reluctant to chuck this duplicitous description anywhere near the The Lady Ottoline. We think that this well-turned-out-pub on an elegant street cusping Bloomsbury and Farringdon from the same people as widely respected Princess Of Shoreditch can speak for itself.
From the smart oxford blue exterior to the long dark wooden bar stocked with superior spirits, The Lady Ottoline impresses in the un-showy manner of, well, a lady.
The upstairs dining room is the culinary equivalent of a true aristocrat – stunningly dressed whilst appearing completely nonchalant. Once you're seated you notice lovely things cluttering up the place enough to make the diners feel at ease, a stuffed animal here, a vintage candlestick there – none of it feeling too'try hard'.
Happily the food followed the same immaculate path (without a hint of smugness). A starter of Cured Duck Leg & Duck Egg – ruby red slithers of meat, with a mini oozing yolk and peppery rocket was a lesson in applying a little heat then leaving good ingredients the hell alone. Same in the case of a Heritage tomato salad, heaped with creamy bosoms of fresh burrata and ripe slices of green avocado and two burstingly fresh mackerels charred under the grill then lived up with a slick of fiery harissa.
Despite it being summer and being culinary bad form to order something too similar, we chose two dishes featuring chops. One was a vast Mendip Hills slab of pork, which arrived sitting on a pretty salad of new potato and egg. And the other a Double Barnsley lamp, atop of a salty bed of kalamata olives and golden fennel. Both were cooked perfectly, rested thoroughly and seasoned by someone who understands that the taste of salt on a rind of fat it a good one.
Other highlights included the onion seed bread so clearly fresh we almost wept; and a lime and condensed milk cheesecake. (Probably one of the most bewitching things we've tried this year.)
We really don't have a bad word to say about The Lady Ottoline. She's good looking without trying too hard, she knows when to show restraint, and she pours an excellent gin and tonic. What we couldn't possibly do is give her a gauche label like'gastropub'.
No, that wouldn't do at all…
The Lady Ottoline
11A Northington Street
London
WC1N 2JF