Lasan, James Street, St Paul's Square, Birmingham. B3 1SD www.lasan.co.uk
Gordon Ramsay knows how to play with the media. I can't watch any more Kitchen Nightmares USA because it's so cringingly crafted to make'good' television. I remember an episode where he found a dead mouse right on the welcome mat and was shocked that no restaurant employee has noticed it. Yeah, Gordon, me too, it was on the flippin welcome mat right in front of anyone walking into the restaurant. The least the poor bugger could have done was crawl off and die somewhere discreet. Maybe all the staff should have gone to Specsavers. Hey, see what I did there? You missed out on that one mate, could have made you more money for your greedy little empire.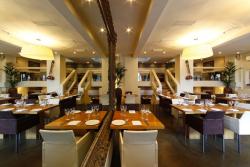 Let's not take away the credit a restaurant deserves for being involved in one of Gordon's shows. Lasan is arguably Birmingham's most famous restaurant. In 2010 it won Ramay's F Word Best Local Restaurant, even though each episode would typically place a non-Ramsay-empire-threatening restaurant head-to-head with one of his London competitors…and guess who would win? Well, enough conspiracy theories for now, it's all alleged rubbish in many opinions, to really judge for yourself you'd have to visit the restaurants in his shows. I recently went to Lasan for the first time and this is what I thought…
It's immaculate inside. There's plenty of wood used in the main restaurant offset with creams and whites. The wooden tables are neat and tidy with sparkling glassware and silver cutlery. It's definitely not what you'd be expecting from a Birmingham curry house, though strictly speaking, this is not a curry house. It's more of an Indian fine dining restaurant. A curry house is somewhere you drop into if you're a tad unadventurous or completely bungalowed. If you're after a korma, then this isn't for you. If you want to sample some expert killed cooking and knowledgeable use of spices then you have to visit.
I've got a thing for soft shell crab at the moment. It's not easy to get it right but when you do it's awesome. Lasan's version is Konkan kekada – soft hell crab dipped in a crispy ajwain and Kashmiri chilli batter with Devonshire crab, green pea and potato cake accompanied by cucumber raitha and sour raw mango chutney. The heat of the chilli batter isn't going to burn your tongue, but for the worrying heatophobes, the fresh raitha could put out a forest fire. Don't panic. I put the sour raw mango chutney together with the green pea and potato cake, not sure if that's what I was supposed to be doing, but it definitely worked. On to that crab I was talking about…that was superb. I'm wary of using words like'superb', it's almost cliché to see in a review but seriously, the crab is superb. The batter is crispy without being crunchy and the crab remains juicy, soft and tasty.
If you want meat in an Indian restaurant, best going for lamb in my opinion. To be fair, it's the one cuisine where I could go completely vegetarian throughout the whole meal, which is weird considering a course without meat in my world is something out of the twilight zone. Lamb labadar – Wiltshire Downs free range lamb, marinated cutlet, 10 hour confit shoulder, braised shin pattie and tempered lentils, with smoked braising jus spiced with nutmeg and cinnamon. Sounds a bit Christmasy with the whole nutmeg and cinnamon, but far from it. It's a cracking little jus, wonderfully rich and unique. The cutlet retains a deep rich pink middle and a filet-steak like texture. The pattie awaits the first break of its outer layer to allow rivers of juices to flow out and gush into the rice, which soaks it up and as you can imagine that's just lush. Obviously a shoulder cut of lamb that's been cooked for ten hours is going to be softer than a Richard Curtis movie. Try adding in the lentils and jus for a decent combination.
I'm not really a sweet-tooth guy. I'm down with crunchy and savoury, not so much soft and sweet. Plus Indian desserts have never bowled me over, they're really sweet, but I am fascinated at their ability to turn carrot into a really enjoyable dessert. Gajar halva samosa – sweet carrot and ground pistachio pudding in traditional samosa pastry flavoured with cassia leaf and cinnamon served with kulfi and mixed berry coulis. No lies, this was brilliant. The soft and somehow creamy carrot centre surrounded by a crispy and delicate pastry was not what I was expecting but I'm having exactly the same dessert next time, even if I have to order two desserts to try something new. A subtle sliver of coulis on the fork is all you need to add a different element into the fray.
I'm pretty chuffed that Lasan can back-up winning the F Word. Despite what my opinions are on the way the shows are put together, this restaurant beat all others nationwide. It's clearly there on merit and not to hurt Ramsay' competitors. Following that show you couldn't get a table for months at the restaurant. You'd be well advised to go and see for yourself why this place is arguably Birmingham's best.