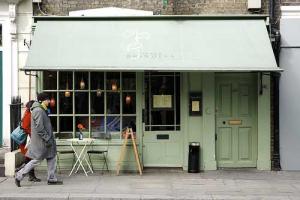 I love black pudding – English with its extra nuggets of fat, French boudin with the crumbly texture and Spanish morcilla, the one that comes from Black Pud heaven Burgos. A pud that features rice to bulk and solidify the sausage without adding any extra nasties for the arteries.
I buy my Burgos morcilla from Brindisa at Borough Market, one of the few reasons I ever go to that giant, over-priced, irritating, open-air delicatessen. Brindisa is one of the original places in the market and it stocks the best Spanish produce this side of the channel.
That fine produce also ends up in Soho in Tierra Brindisa restaurant. Jose Pizaro took his Tapas Brindisa concept west in 2008 and for a while people packed the Soho place every day. You couldn't drop in on a whim because of its reservation policy, which many bores at the time pointed out was against the ethos of a tapas bar. In fact Brindisa's booking policy, as well as fancy napkins and other 'heresies' got quite a few people upset.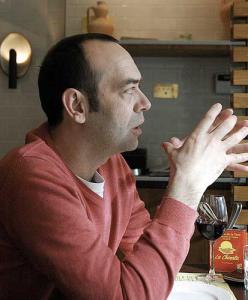 Sod 'em, I say. I hate being made to wait at the bar when I'm hungry, or told to come back in 30 minutes. I like a reserved table and today I am guaranteed one because I'm lunching with Jose himself, nicely planted in the window with the sun shining down on what is an unseasonably freezing cold day.
And it's true that the room looks very unlike a classic tapas place, but then if it did it would be cheating wouldn't it? You can't buy patina of ages so why try? Instead it's happy to be a contemporary space and it looks modern, clean and fresh, rather like Jose himself who emerges from the open kitchen at back
'You can't buy experience either,' he points out ordering up some Tempranillo. 'The things we cook here are traditional tapas evolved over time. I'm no fan of chefs who don't know the basics, who run before they can walk.' Jose has that experience, his first head chef job was at El Mesón de Doña Filo, a Michelin-starred restaurant in Spain. He then worked as Head Chef at Eyre Brothers restaurant in London.
Menus here are also placemats but rather than look too closely I'm happy to let Jose do the ordering as long as it includes Pimentos Padron. 'Russian roulette,' he agrees. 'Towards the end of the season in September they are all hot though, not just random ones like these, they are not nice they just blow your head off.'
Ours arrive prettily spiralled on the plate, no signs of blistering, each nicely wilted and dusted with rock salt. They are sweet and addictive, but none actually have the fire I crave to leap out and bite me back. Some scrummy Josalito jamon, carved off the bone naturally, is nutty with, well the acorns the pigs eat actually, and meltingly tender with the fat being the best part of all. 'Some people actually ask us to remove the fat for them!' Jose says incredulously. We fall reverentially silent as we lower piece after piece down our throats.
Jose has a book out right now, Seasonal Spanish Food, a collection of the recipes that make him smile. 'Ones I learnt from my family, the ones I grew up with and ones I love from all over Spain really,' he says as we try some sobrassada the pate-like softened chorizo. This Balearic speciality is another of my loves and this is a very good one, spread thickly on toasted bread it seems everything a tapas should be – so simple and so tasty.
'Seasonal is so talked about these days,' says Jose scanning his menu for what else to order for us. 'But even so it is still relevant of course. My book is arranged around the seasons, the joy of waiting for an ingredient to be ready at its proper time. We have forgotten I think how to be patient and wait for our pleasures.'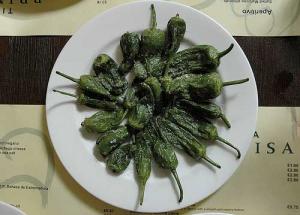 I take this personally as he can see that I can't wait for more tapas to land on the table. One of the things that is so great about tapas is the way you can order more as you go, there's none of the sense of disappointment you get when ordering your three course meal and then halfway through wishing you'd ordered more or, indeed something else. With tapas the treats keep coming and if one doesn't hit the spot, the next one surely will.
Chicken croquettes are deeply luscious and gooey. I like the more usual croquettes made with the ham 'scraps' but these could win me over – cooked to crispy crunchiness and not so big as to resemble beached whales on the plate. The fried parsley isn't just a garnish, it could become my favourite TV snack. Someone should market it.
'The menu here at Tierra Brindisa changes seasonally too, of course,' Jose explains as the octopus arrives. 'I see it actually as part of a chef's job to help educate people about seasonality. We cheat a little bit here because, for example, asparagus is now in season in Navarra Spain so we import it, but as soon as the English asparagus is in season we will change to that. Everything that I can buy in this country I do buy. Lamb, for example, it's very good. I have excellent UK suppliers.'
The octopus demands our attention. Simply served the Galician way on wooden plates awash with quality olive oil, salted and coloured with pimenton, it has exactly the right texture. 'Not hard, not soft,' says Jose, ' I like a bit of crunchy.' I don't think crunchy is quite the right word but I know what he means; you need that feel in the mouth. 'People are a bit squeamish about octopus I know but it's lovely, better than squid, " Jose says as we tussle over the last one. 'The fish in this country is amazing, ' he says as he lets me win, 'and I use as much as I can, the langoustines are very good, great oysters, scallops.' He's making me hungry again even as I eat and he has saved the best for last.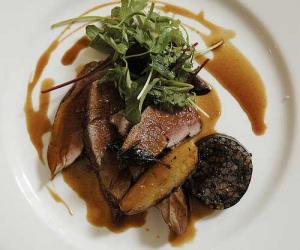 Sautéed Iberico Pork fillet with sage, morcilla and roasted apple is a delight; the perfectly cooked pork is rare, which would make many people ring the Health and Safety busybodies. Of course it is quite okay, this is what meat thermometers are for. Morcilla, pork and apple all have a deep and traditional ménage a trois going on and here it plays out perfectly.
And so to dessert, deep-fried Monte Enebro goat's cheese with orange blossom honey is something of a wonder. The two principal ingredients dancing a deux on the palate and being very naughty in the clinches. A plate of Spanish cheeses, with the quince paste so obligatory to the enjoyment, comes with a rich dessert wine. A beer would have been good, beer and cheese are happy campers, but this wine is sweet heaven.
After two bottles of red and the dessert wine too, Al our photographer feels his focus is suffering while I am dumbly fixated on the Valdeón Picos de Europa blue cheese, God I do so love a blue cheese.
And I love Jose; although this may be the wine goggles talking. No, I think it's a serious crush. The man is 'keeping it real' with his tapas; simplicity and quality and a changing menu. The train spotters have moved on, chasing the next new thing, now his restaurant has proper customers, regulars. As we leave I reflect our offices are just a Rioja fuelled stagger away, so we will regularly be back.
Photos: Al Stuart
Tierra Brindisa 46 Broadwick St, Soho, London, W1F 7AF
Jose Pizaro's new book Seasonal Spanish Food is out now and we review it here.