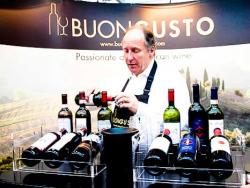 There's still time to get to Islington and check out this year's Dolce Vita, the Italian Festival in London.
We battled through the crowds (the venue is a bit cramped compared to last year's Olympia) and went on a blagging/begging trail around the stands. Many people go to find holiday destinations or even in these recessionary times, to find a holiday home in Italy to spend a spare £400, 000 plus on. Not us though, the name of the game is to create a full meal out of lots of tiny nibbles.
Up at the cookery demo we just missed Katie and Giancarlo Caldesi's show, but we had already seen it anyway, but Maurizio Morelli of Latium (one of the best unsung Italian restaurants in London) knocked up dishes using Giovanni Rana fresh filled pasta. The Ranas are one of the show's main sponsors, but they are no massive, tasteless, manufacturer. I think their filled pastas are the best mainstream product around, with silky smooth pasta and good quality fillings. And the fact that they were giving out free packs has done nothing to change my opinion. Try them yourselves; they are available in Sainsbury's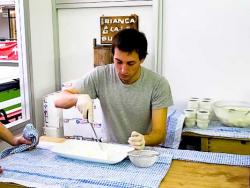 Mozzarella doesn't travel well, we are told, but travel it must unless you buy Jody Schechter's Mozza made at Laverstocke Park. However Bianca La Buffala Mozzarella is displaying their cheese and it is excellent, despite its long flight over. So good in fact you can eat it raw and at the Bianca stand you can buy a plate of grilled vegetables served with the mozzarella and all drizzled with some quality olive oil. You can also witness, as I did, a food journalist refusing to pay up saying over and over 'do you know I'm a food journalist?' The answer to which is surely, 'so what? Pay up, you tight git.' In Italian, of course
Also upstairs is the wine school as well as Buongusto Wines who have plenty worth tasting and, for a bit of fizz, there is Bisol Prosecco being poured by an ebullient lady. Despite having a name which unfortunately resembles BiSodol, this is a class Prosecco that goes back to 1542 and is a bit special and so much nicer to serve than champagne, should you be hosting a wedding this Summer.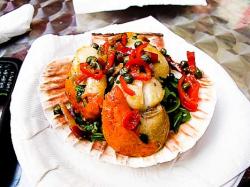 I haven't seen Theo Randall for years but, as he told me at his kitchen/diner stand (I do so hate the trivial expression 'pop up restaurant') that hasn't stopped Theo Randall at the Intercontinental still going very strong. It was very well reviewed when it opened, I loved it myself and now freed from being critics' flavour of the month it has settled down to turning out consistently excellent, rustic almost, Italian food.
At the show he's serving two dishes and we tried a simple scallop with Italian lentils, capers and a few shards of chilli served in the shell. Very nice indeed, so good it merited a bloggertastic picture.
You can spend all day wandering the stands and the demos and if you buy 'a little book of indulgences' you get ten tickets for 'limited edition' experiences such as a comparative wine tasting, an olive oil tasting and a goodie bag from Seeds of Italy. It costs £10 on top of the entrance ticket and is a good deal.
You've still got Sunday so do get along and sample the Dolce Vita
La Dolce Vita, March 11-14, Business Design Centre, Islington, London, N1,