Benares Mayfair, 12 Berkeley Square, London, W1J 6AN www.benares.com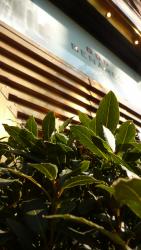 Beside a Bentley showroom, a gold fringed doorway leads to the lobby of Mayfair's 'Benares', named after the north Indian city sacred to Hindus, Buddhists, and Jains. Michelin starred its chef, Atul Kochhar in 2001 – their first Indian recipient.
I've often clocked Kochhar at press launches and charity events, including Sabrina Ghayour's Action Against Hunger Haiti fundraiser, for which he cooked a course. With ventures including Colony in Marylebone, Ananda in Dublin, Vatika at Hampshire's Wickham Vineyard and an imminent eatery aboard superliner Azura, it's not surprising some critics dub him the 'Gordon Ramsay of Indian chefs'.
Following a fire which closed the restaurant for three months, I booked into Benares. Despite an absence of windows, the space is light and fragrant. In the bar, a pea-pod shaped boat brims with flowers; more blooms wander a wide, shallow water feature. Two new private dining rooms occupy a glasshouse of wine and a chef's table, overlooking the tandoors.
Generously treating me, my friend insisted we eschewed the set lunch in favour of the unfortunately titled 'grazing menu' (£99pp with wine). This comprises four flights of three dishes, which gently escalate in addictive chilli.
Attended by couth staff, including a particularly erudite and clearly taste aware sommelier, the main dining room is smart and music free. Walls spun with plaster waves undulate in shadow and light. Almost as a third person, an ornate carving of an elephant's trunk perched between us at the corner table. A sappy, saline, gently seasoned Virgin Mary was an auspicious start.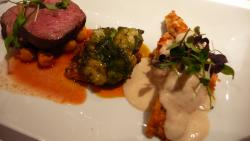 Of a dozen dishes, fresh curry leaf and tarragon infused lobster rillette was a highlight. Served cool, its sweet tangy meatiness worked with a ripe, barrel-matured, butterscotch scented Chardonnay from Helderberg, South African – Journey's End. Alongside roasted rabbit and minced lamb, Kaffir kissed monkfish felt more fishy than meaty: rare in my experience for this monstrous looking fish. Bright, marzipan flavoured Soave La Rocca from premium producer Pieropan shot through its tamarind glaze. With 'grazes' of chicken Korma and lamb rump, plump king prawns with mint and coriander delivered a nifty kick, pulsing against a cool Pinot Noir from Muddy Water, New Zealand, named after the Maori place name wai (water) para. Finally, lemon grass flavoured cheesecake with yoghurt served as savoury-sweet palate cooler, nudging a leavened, glossy banana brownie.
The only feature which lacked finesse was the tricky hot towel which evoked a tampon in shape, but expanded immediately given a drizzle of lukewarm water.
From what I sampled of the precise spicing and saucing and meticulous, anticipative service, the Phoenix-like Benares has risen to become my finest Indian experience to date…