35 James St, W1U 1EA www.guerillaburgers.com
Some restaurants you know you're probably going to like – ones where the buzz of people chatting, laughing and having fun hits you when you walk in the door. Obviously that's relative – fine dining requires a bit more gravitas from the assembled gourmets of course – but if it's a local haunt then lively is lovely.
Guerrilla Burgers has that feel and is packed lunchtime with workers, shoppers, tourists and people who have popped in on a whim just like us. There are a lot of restaurants in James Street vying for your custom, yet sometimes you just fancy a burger and nothing else will do. You don't want a clown burger though, because you aren't 'loving' it – you never have and you never will.
So what's Guerrilla Burgers got to offer apart from hilarious jokes about 'Hold the fur' and 'Is it made of revolutionary meats?' Well that good atmosphere for a start; it's light, airy and faux industrial with big windows that in summer will be thrown open. Tables are cosily close together, but not elbow in face close, and I rather like the tin pail on each table with mayo, ketchup, mustard and chilli duster racked up ready for use.
Tomato soup served in a mug with soldiers was cheesily retro, but the soup was granular, thick and fresh and the toasted sour dough a nice touch. It needed a bit more seasoning for my taste, though. J's 'jam jar' of crayfish, avocado and lettuce was, of course, simply a prawn cocktail in disguise but nothing wrong with that. 'But a bit hard to eat out of a jar, I have to say,' he said dolefully as once again his forkful slid back in.
For some reason bores bemoan London's poor burger choice versus New York's, which seems about as useful as saying there are more Italian restaurants in Rome than London. A burger is about the beef used and the cooking employed. Get that right and you're home and dry wherever you are be it Noo Yawk or Meltun Merbray. Only a pedant would insist otherwise, and only to make the point that they are seasoned transatlantic travellers and that you, poor sap, are not.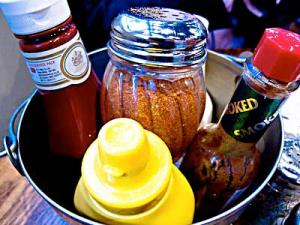 J went for the classic cheeseburger, but my hangover craved spice, which meant the burger with bite – green chillies, chipotle and cheese. They serve the lettuce, onion and tomato on the side here, which is unnecessary unless you intend leaving them, and the burger comes in an oddly seeded bun, which was nothing to write home about but did the job. The patty itself can be chicken, beef or rather bizarrely, turkey. Beef is best though and ours was cooked properly medium and not so overly juicy that it ran down my sleeves. It was the right size too; burgers which require you to dislocate your jaw like an anaconda to eat them are annoying and messy.
We liked our 1970s crinkly chips and their dusting of fajita spices. Very addictive. Even when slumped like a gut-shot wild boar after my burger, I kept seeing my own hand reach out seemingly of its own volition to seize just one more.Dessert of cheesecake was lighter than it looked, thankfully, and as good as these sorts of American style desserts get, which is to say fine for children but a bit rich for grown ups.
Guerrilla Burgers is filling a family-friendly slot and doing it pretty well for the money and with no silly nonsense such as 'added foie gras'. There are mini burgers for the mini humans and enough non-burger choices to keep everyone else happy too.
I liked the place even though I am not a burger afficianado. It deserves to do well and they seem to be doing so already. I guess if you don't like it you can always burger off back to New York.