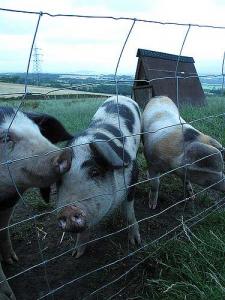 The pigs are squealing loudly and lustily, it may be the wet weather up here in the hills outside Sheffield, it could be the low cloud base or it might just be the sight of their owner approaching them carrying a cordless drill. Is this some new form of humane slaughter? Max Freeman looks down at his Black and Decker, 'Oh I forgot I were carrying this,' he laughs. 'I've been in the barn building 'chickenopolis', our architect designed hen house, I should have left it in there.'
They charge to greet him, lovely brown and white porkers who clearly enjoy their free range life in the field, rooting about and generally having a piggy good time. Max plays with them like dogs, rubbing their stomachs and flapping their ears. It seems a shame to eat them, yet Max is no romantic but he is considerate. 'When the time comes,' he explains, 'we use an abattoir that's just a mile away so the pigs don't suffer any undue stress from transportation and we round them up gently and quietly and give them bananas, which they love. We stay with them all the way and we have a deal with the abattoir that our pigs don't have to hang around when they get there.'
So how did a man who works 'in the chip and pin industry' come to be farming pigs up here high above Sheffield. 'Well Jack, whose farm this and whose family has been working it at least seventy years, grows sileage for a living,' Max says fending off an amorous pig as he does so. 'My house is not far away and Jack and I like to go out to the pub every week and what we really like is a big old breakfast the next morning. Now we tried many places but the best breakfast we found was at The Milestone down in Sheffield. We talked to the guys who run it and we got talking about local produce and next thing we're buying rare breed pigs to raise up here for The Milestone to serve on their menu.'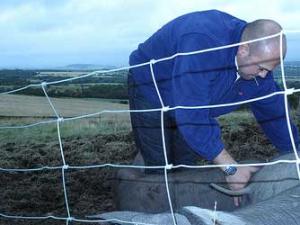 'We feed em on old fruit and veg,' he elaborates as he clambers back over the fence. 'It's what the supermarkets can't sell because it's just gone past its human consumption date. The pigs don't mind that. They root around to pick it up, which is natural and what they like, and they get their water from a spring on the land. As you can see they've got all this space to wander about which is exactly what a pig should have.'
He has twelve pigs in this field, which slopes and drains well, so the pigs don't have to live up to their little ears in mud when it rains. 'Mind you when it's hot, they head straight for the puddles to cool down with a mud bath,' he points out as he waggles a particularly friendly pig's head. 'We only fatten pigs here right now, but we are bringing back some old derelict stone barns to life where we should soon be breeding pigs ourselves.'
'What we're doing here is fairly unique in the area,' he says as we walk back to the main buildings. 'A lot of people say there's no money in pig farming, particularly the way we do it and that may be true but we're not in it for the money.' With that he picks up his drill and heads back to building his chicken coop for the free range chickens they intend to start farming soon. 'We could have bought a chicken coop off the shelf,' he says. 'but it's better to do it yourself isn't it? It's more fun!'
By now I'm pretty wet, back in Sheffield the weather was fine and I didn't think to pack a mac, here in the Peaks we have climbed almost into a cloud and it's bracing to say the least. I'm happy to get back in the car and descend back down to town for an appointment with the restaurant where all these little piggies all end up.
A gastronomic waypoint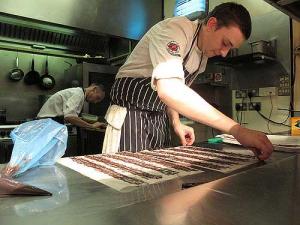 The Milestone at Kelham Island, isn't really on an island at all. The area, close to the water was once a steelworking spot and a brewery location but suffered like so many other parts of Sheffield with the loss of the steel business.
Today though it's bouncing back. Fresh new flats carved from old buildings stand next to remnants still awaiting renovation. A glossy new museum has been created and from a pub once known as The Ball Inn and founded in 1833, a brand new gastro destination, The Milestone has been created.
Upstairs an open kitchen shows confidence and chefs working fast and hard to create gastro-pub style dishes from locally sourced produce. The ceiling has been cut back to reveal funky wooden beams of a size and weight that any London architect would love to have available for his loft conversions. Downstairs the lunchtime crowd is beginning to thin out as I sit with the two owners Matt Bigland and Marc Sheldon for a cup of coffee and a chat.
The blackboard has a tasting menu advertised for a very reasonable £34.95 with 'proper' food like ox tongue, smoked garlic ravioli, squid with a raisin and beetroot puree and venison to follow. What's not to like about that? The guys have worked hard and cleverly to create a place that's fresh and vibrant and in touch with its location.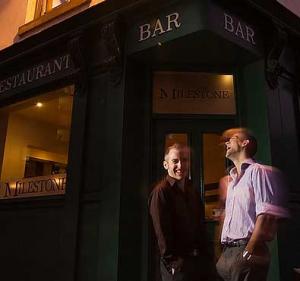 They don't believe in buying in products which can be made – such as fresh bread, pasta, ice cream, piccalilli, chutney, puddings, salad cream – and the resulting busy restaurant is proof of the wisdom of that approach as well as of keeping a close eye on what customers really want.
'We bought it in 2006 and it was still a rough area,' Matt tells me, 'we had prostitutes on the doorstep even in mid afternoon! But we saw the area was on the up and we wanted to get somewhere affordable for our customers as well as us and this was in our price range. It had been derelict for the previous 15 years, it had been a pub until World War 2. Then some developers wanted to turn it into apartments but the council wouldn't allow that and so basically it just sat and did nothing until we turned up.'
'We both like great things and cheap things like mackerel and braised pig head,' Marc adds, 'we try and introduce new dishes like that and we got good feedback from it. My granddad liked pig's head back then and now it's come back full circle this classic food. Once the head's been broken down you wouldn't recognise it,' he laughs as if he can see what I am seeing in my own head, which is something Indiana Jones-like and scary.
And of course they know these pigs pretty well. 'Yes as you've seen we are very close to the producer but even so free range pigs aren't cheap. We could get pigs that have lived in cages much cheaper but they've had no life and we aren't going to do that. What it does mean though is that we have to make sure nothing is wasted from those pigs. Our chef does his own butchery, and he learnt from an expert, and we've all mucked in when we've had a few pigs arrive. It's so important to use every last bit of your produce, it saves money and gives chef more options. We make black pudding, trotter stew and all that sort of thing.'
The two of them make my mouth water with talk of properly sourced, decent sausages, crispy bacon rind, proper crackling and all the rest. They have a real love of food that is honest and tasty and even if they wanted to do fancy nonsense they know their customers would soon put them right.
'Oh we serve a big meal here definitely, this is Sheffield after all, if we didn't fill 'em up that's what they'd remember, no matter how good the meal was taste wise. If we don't send out a bowl of vegetables with the main courses, people aren't happy,' Matt laughs, 'you've got to listen to your customer.'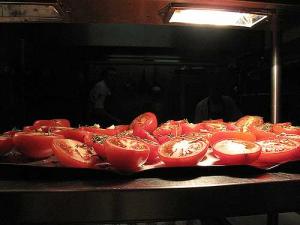 'We keep our prices as low as we can, downstairs especially,' Marc adds, 'the main dishes no more than £12 average and that's what puts bums on seats. And we don't waste time with things like fillet steak, instead we put bavette steak on. It's a cheap cut of steak but one of the very best for flavour, ask any Frenchman. It's got to be served properly rare and you can't slice it like butter like you do with fillet, but every bit you get off onto your fork is packed with taste. People say 'Oh I don't like rare steak' but you convince 'em to try this and then they love it.'
It's an equally rare combination – pig farm and restaurant going together like sausage and chips – but it clearly works. Many restaurants boast of sourcing local but this is real symbiosis between producer and outlet. Trust canny Yorkshire men to deliver the goods and bring home the bacon.
www.the-milestone.co.uk 84 Green Lane at Ball Street, Sheffield S3 8SE