Umu. 14-16 Bruton Place. W1. Bond Street tube. www.umurestaurant.com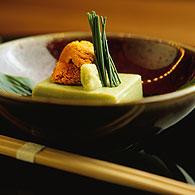 If you're the kind of person who likes their restaurants to be a bit 'hidden away' then you'll like Umu. As I tap, tap, tapped my way down Bruton Place, a discreet little lane just off Berkley Square, I felt that little bit of excited anticipation that comes just before you're shown into a posh hotel bedroom. I like the idea that a restaurant has to be sought out rather than stumbled upon. That said, actually finding your way in can be a little bit perplexing. I walked up and couldn't find the door (yes, really). Ok, don't panic – start again. I walked away and then past – twice! – just to get a little perspective and the opportunity to scan the frontage. A bit of a giggle if you're in company, slightly more embarrassing when you're on your tod. Evidently a James Bond-esque touchpad sits next to (what you hope is) the door, in a small recess. The pad registers your touch and the door slides open. Ta da! Simple really.
Anyway, I was the first arrive at just gone 6pm on a Thursday evening. By 7.30 the place was almost full – with a young, beautiful (and, call me judgmental, but probably monied) crowd. Umu is all low lighting, dark woods, and mirrors. It could have felt a bit more intimate (discreet conversation is not nearly as discreet when neighbouring tables are positioned – in our case – just inches apart) but after a glass of sake or two, I guess we all lose that British reserve.
Within five months of opening Head Chef Ichiro Kubota won a Michelin star. On visiting, one national newspaper editor heralded his meal 'the most sensational single thing I have ever tasted". Further plaudits and high praise followed. Five years later, what's the deal at this sixty seater creation of the MARC group of restaurants…
Umu is London's first and only Kyoto restaurant, paying tribute to the former imperial capital, home of the noted Tsuruya restaurant – which is where Executive Chef Ichiro Kubota learnt his trade.
Kubota is fascinated by techniques in cookery: 'After spending seven years perfecting my skills in Japanese cuisine I felt I needed to explore different culinary techniques. I remembered as a child visiting The Grand Hotel, Hiroshima, and trying a wonderful French potage. It was unlike anything I had ever tasted before and I needed to know exactly how they had created those flavours."
Nothing French here. Kubota has clearly concentrated his efforts on recreating Kyoto authenticity. He has personally sourced and visited each and every supplier. Wild fish is flown, exclusively for Umu, directly from Japan as are indigenous Japanese vegetables and even Japanese water (softer than over here and used, in particular, to make tofu).
We were impressed by the array of Sashimi – in particular seared akami, foie gras, fig, and confit yuzu. Every mouthful delicate and yet flavoursome. At £59 Grade nine Wagyu beef, pear and horseradish sauce was hardly a steal but again, with incredible flavour in-tact – and balanced beautifully against the sauce, presented stunningly in a hoba leaf.
My guest (an aficionado of Japanese food, having experienced the real thing in Tokyo) went for Unagi seiro: grilled eel, rice, sansho pepper – I heard no complaints.
We were intrigued to hear that sushi is traditionally eaten after a main course and later watched this being crafted by Kubota and his team behind an open kitchen counter. No Ramsay-style dramas here. Just calm and focus; a feeling of men at work.
Staff at Umu have service down to an art form – from the Japanese greeting as we arrived through to the accompanying explanation of dishes and recommendations of drinks and side-dishes. We trusted the smellier, Kumiko, to do her job and were particularly impressed by a delicate, floral Hiyaoroshi. Its worth noting that Umu has one of the best saké lists in the UK. Although service at times feels very formal, its quite nice to see a little ritual and respect for the food (perhaps we've all become a little jaded or accustomed to having plates plonked down).
I rarely get excited by desert menus but was charmed by Umu's: a Kyoto sundae (£10) featured its signature White miso ice cream; purple sweet potato ice cream; green tea cake, and seasonal fruits. It looked beautiful and did not disappoint.
To my knowledge, Umu is one of just three Michelin-starred Japanese restaurants in the UK (the other two are both Nobu restaurants). Japanese cuisine is one of those that has been incredibly westernised and is prone to a lot of fusion refinement. I wouldn't dream of claiming particular expertise, but if I'm basing this review on clever flavour, artistic flair, and an absolute commitment to authenticity and quality of ingredients, then I would say that the star is well deserved.