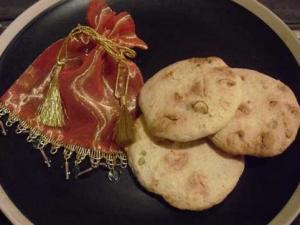 With Christmas fast approaching, everybody seems to be doing some kind of baking, whether Christmas cake, Christmas pudding or mince pies… every kitchen is steeped in festive spirit. Personally, my favourite gifts around this time are hampers filled to the brim with gourmet goodies, but they can get very pricey around this time of year, so I decided to make my own!
This week, I dreamt up the perfect shortbread cookies studded with deliciously creamy chunks of white chocolate, crunchy pistachio nuts and perfumed with the grated zest of fresh oranges… They make for the most heavenly mouthful of crumbly, buttery goodness and a fabulous gift that anyone would be lucky to receive, so here is what you will need to re-create this magic!
Makes 16 (approx)
350g plain flour
225g chilled salted butter (cut into cubes)
150g caster sugar
1 tablespoon of good-quality vanilla extract
3 large (4 medium) egg yolks
Zest of 1 large un-waxed orange
200g of white chocolate chunks (you can chop up a bar if you prefer)
150g of shelled pistachio nuts
Cling film
Oven proof baking paper / silicone baking sheet
Method
Preheat your oven to 170 degrees (160 if using a fan assisted oven) and line a baking tray with baking paper or a silicone baking sheet.
If you have a mixer, add your flour and butter and mix until mixture resembles breadcrumbs. If you do not have a mixer (which I didn't!) rub the butter into the flour, almost flaking it, until the butter has incorporated into the flour and it resembles breadcrumbs. Then add all your remaining ingredients and mix everything together thoroughly. If the mixture is still a bit moist, add a little plain flour and if the mix is too dry and not sticking together, add a tiny sprinkle of water until you get a nice firm ball of dough. Then form a long sausage shape (about the width of an actual cookie) and wrap it tightly in cling film and refrigerate for 2 hours.
Remove from fridge, simply take a large knife and cut the sausage shape into 1 inch thick slices and place in the palm of your hand and 'clap' them until they flatten out to about 1cm thick. Place them on your baking tray approximately 2 inches apart and bake for about 18 minutes until golden-brown around edges and peaks. Allow the cookies to cool and enjoy with a nice cup of tea or simply on their own.
The mix also freezes incredibly well, so if you want to make some now and some later, its absolutely ideal! Why not stack them and tie with a ribbon or place in a fabric bag making a perfect gift or stocking filler for Christmas.