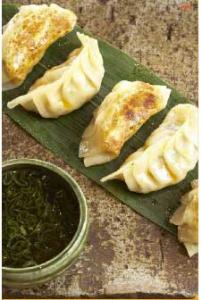 It's obligatory, it seems, to open a review of any restaurant in Canary Wharf by taking a pop at the 'soulless, sterile, insert your own negative adjective here' aspect of the place and then to sneer at all the bankers who work there. Well I work in Soho and on my rare excursions out to The Wharf I am always amazed after leaving a tiny world of falling down, huddled for comfort, ancient buildings to emerge from the cathedral-like tube station into a bright new world of impossibly high towers and bright futures (and derivatives). I stand and gawp like a rube, impressed by how the airplanes on their way to City Airport reflect in the glass buildings as if placed there by Ridley Scott.
This ROKA seems so right for The Wharf and the newly built building it shares with other familiar restaurant names. Japanese food is fast and sexy, it reeks of money because fish to serve raw is one of the most expensive ingredients you can source. To eat it, and to be seen eating it, is as much a statement of your intent and purpose as a sharp suit.
That said, this Friday lunchtime about half the suits are in mufti – pressed jeans, chinos, casual shirts. There's even one Hobbitish bloke with a beard and I didn't think beards were allowed in banking, especially not the 'serial sex-offender' kind of face fungus he's toting. My companion suggests that maybe as it's Friday, the bankers are in 'dress down' mode. Perhaps so, they all seem happy enough, another week of saving the UK economy coming to an end.
From the Robata grill come whoops and roars that suggest it's all kicking off with a party of drunks, but this is just the traditional way the grill team work. I remember it from ROKA Charlotte Street, as well as the Executive Chef Nic Watt who I can see busy behind the pass. This ROKA though has space between the tables, something you couldn't say about the Charlotte Street branch where you often had to squeeze past Mariella Frostrup to get to your table. Not such a bad thing, of course. The lime green upholstered seats and the warm, sandy bleached wood walls here in the Wharf are soothing to the eye and an absence of daylight makes it all rather cosy and tempts you to lose track of time.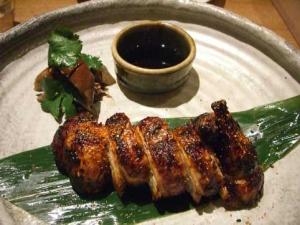 You could lose track of your mind, gaping like a landed tuna at the massive menu, and I could lose track of your patience if I listed all that we had. The abiding memory is the beautiful presentation of delicate, designery sushi and sashimi such as tiny scallops perched on waffer thin slices of lime. I remember too sea urchin that was as creamy as mayonnaise and redolent of the wave-swept rocks it must have been plucked from just hours earlier.
Also stand out was sustainable tuna of such freshness you could almost see the boat it came from sailing back down the Thames. There were Gyoza dumplings containing black cod and prawn, the latter's little tail poking jauntily out the end. These could have been pan fried a fraction more for my taste, I think the bottom needed browning a bit longer before the steaming, but they were still delicious.
Wafer thin slices of Wagyu beef interspersed with what seemed to be truffle shavings had me greedily eating more than my fair share and the Robata chicken and sea bass dishes had the tang of the charcoal just right. Finally a mixed platter of dessert looking like a Carmen Miranda hat featured a dark chocolate pudding whose centre gushed out a vibrant green tea filling, a bit Exorcist-ish to be honest but I loved its pear ice cream accompaniment.
The tables around were buzzing, proving that recession is something best viewed from the safety of the banking bonus world, preferably from a high glass tower, and the lunch crowd looked like slipping into the evening crowd seamlessly.
No one is going to make the trek out to eat at the Wharf who doesn't work there, obviously, they can go to ROKA in town instead. But if you are in the area then beg a banker to buy you a meal. It's not cheap ROKA, if you want cheap there's Wagamama, but it's stylish, cool, beautifully designed and with food that is catwalk chic and classy.