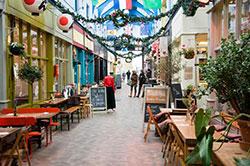 It's official: Brixton is cool. But how many people have actually eaten there? Local lad Keith Lewis lists his go-to places.
It was only thirty years ago, during the Thatcher years, that the Brixton riots brought the area infamously under the spotlight. Certainly, it was not on the radar as a destination of any sort. Most Londoners, in fact, wouldn't have touched the area with a barbecue skewer. So the idea that it would become the new kid on the block for London's fashionable food hoards seemed unimaginable.
That was, until recently. Now Brixton's demanding attention. And it's been pulling punters south, giving previously established London foodie hangouts a rest from the culinary headlines. That's because it has one thing that many other areas don't: an idiosyncratic space with a unique dining vibe.
A few years ago the Space Makers Agency sought to organically revive the old 1930s Granville Arcade with the help of local creative start-ups, many of which were innovative food types. The Granville Arcade, (now more popularly known as The Village) started to become a fusion of cuisine and creativity.
What's more, its influence has extended into Market Row, another sister undercover market on the other side of Atlantic Road. Both markets have a kind of clandestine, yet vacational allure to them. Raw, unhindered creativity has made them magical spaces to hang out and eat. Thus the dining experience is magnified.
Now there's plenty of tourism from north of the river, and beyond. And you'll even find gastronomic tours of the area's markets, championing its fierce heritage of independence. So one of London's newest, burgeoning food destinations is showing no signs of slowdown. A night out won't cost you an arm and a cured leg of wild boar either – Brixton still sits high up on the value scale.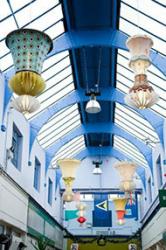 The area's effervescent sense of community has always been associated with liberal creativity and prides itself on cultural diversity, remaining the home of many musicians, poets, artists and writers. It could be said that food then, is just the latest thing. And what Brixton has in the doggie bag certainly reflects this diversity.
So here are a handful of some of the more interesting offerings, both old and new, and not limited to the undercover markets. Note, they are just a handful. One of the main draws of the area is discovering it for yourself.
Rosie's
Rosie Lovell set up her deli around eight years ago and since then she has become a celeb-locale in her own right. She was an early pioneer of Brixton's food movement, probably without intention. Her deli is an inclusive space, which feels wonderfully warm and bric-a-brac, without pretence and with oodles of British authenticity. Rosie's has remained consistent in a changing Brixton landscape and serves interesting, reasonably priced fresh food, just as British delis should do.
KaoSarn
The now renowned KaoSarn kick-started a lot of the press coverage of the area. It was set up by Giselle, a transvestite from Bangkok, whose glamour and grace go unchecked by the restaurant's constant flow of human traffic. The chefs cook everything from two gas stoves at the back of the restaurant and the food is divine and well priced. It also has a "bring your own" booze policy. Quite simply, it tastes like Thailand.  The chicken larb, the ribs and the banana fritters are particularly good.
Fish, Wings and Tings
True to the area, Fish, Wings and Tings do Caribbean food with a Trinidadian twist. Brian, the chipper proprietor, serves up crumbly Roti wraps, prawns done in Red Stripe (of course), cod-fish fritters and other such quirkier Caribbean food. A personal recommendation is the Goat Roti wrap with lashings of the fresh spicy sauce that Brian makes himself. (He also sells the sauce to take out it at £3.50 a bottle.)
Cornercopia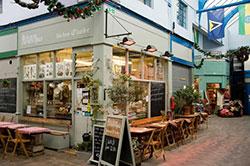 Cornercopia should be recognized as a pioneer of Granville Arcade's regeneration. The British based menu uses ultra-locally sourced produce (including a great collection of liquor, beer and wine – yes, British wine) and has a daily turnover. It is undoubtedly one of the best value for money "British" eateries in London. Some of the veg is sourced from nearby communal allotments on Tulse Hill estates; until recently a local man grinds the flour (used in the bread) from a converted washing machine in his flat. Due to its success, Cornercopia has expanded its number of covers from a few small tables outside a modest kitchen to a few units of the arcade.
Franco Manca
Franco Manca should need no introduction to any Londoner. It is regularly voted one of the best pizzerias in town and they recently set up a few more eateries around the city. But Brixton is its birthplace. Nestled between a fishmongers and a religious artifacts shop, this Neapolitan restaurant serves up fluffy dough pizzas with simple ingredients, at unbelievable prices. It used to only open during lunch, much to the disappointment of Brixtonites. Now it's open all hours though, but expect to queue unless you get there at noon on the dot.
Negril
Negril isn't in the undercover markets, but a short walk up Brixton Hill. It is a down to earth, bring your own booze and an earthy appetite establishment. Expect to kick back and lose a few hours by tucking in to some great value, home cooked Rastafarian food. The Jerk chicken and the curries are great, served with old-fashioned amiability from the jovial staff. Oh, and you should try the "slaw".
Gremio de Brixton
A relative newcomer to the area, Gremio is an ambient hideaway situated in the crypt of St Matthew's church. It's a contemporary tapas bar with a kind of Bodega feel, due to the exposed brickwork arches, which provide privacy and atmosphere. The high-end tapas ranges from classics such as croquets, jamons and tortillas, through to original dishes, like piquillo peppers stuffed with Spanish black pudding, suckling pig and marinated Iberian pork loin. In short, it's imaginative Spanish cuisine wrapped in the familiar comfort of a poncho.