Arch 334, 1A Dunston Street, London E8 4EB  www.tonkotsu.co.uk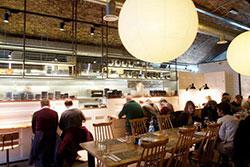 Even if you started from scratch and designed Tonkotsu from the ground up, you couldn't make it cooler than it already is.
Founded by a disillusioned duo who couldn't find decent ramen in London and spent months in Japan eating the stuff three times a day in order to learn how to make it properly, the first branch opened in Soho and was raved about incessantly by London foodie trend-setters. It even went on to win the Observer Food Monthly awards.
In case Soho wasn't trendy enough, a new branch has just opened in Haggerston, under the brick arches that support the Overground. The decor is just as achingly cool as the location. The exposed brickwork of the gently arching roof gives it a raw look, with the Spartan – but entirely comfortable – wooden furniture continuing the theme.
The low lit room has an open plan kitchen at one end, with a bar at the front for the people waiting to be seated. At the back, there's the showpiece: a floor-to-ceiling window into the room where the noodles are being made, using a specially imported Japanese noodle machine.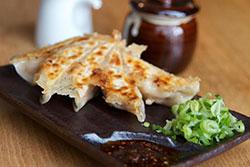 We're seated at a long, communal table (obviously). My last experience of this at Flat Iron was cramped and claustrophobic, but Tonkotsu have been sensible enough to give a bit of elbow room and the proximity to our fellow diners doesn't faze us at all.
A portion of pork gyozas (Japanese dumplings), are presented still linked together from their time in the pan, the dough thin and delicate to the point of transparency and the filling fine and plentiful; a must-order. Soft-shell crab kara-age was even better, pricey but worth it, the crab deliciously crispy and an absolute delight. A sashimi of yellowfin was also decent, using good fresh tuna meat in a nice light sauce. The food comes as it's cooked so a good idea is to order a variety of these light bites to share amongst your group.
It's the ramen you come here for though. A tonkotsu for me and a Tokyo ramen for my companion, the difference being a sea salt stock on mine and a soy sauce stock on hers, with a slightly darker colour ensuing. Both broths are rich and flavourful, though we both end up preferring the tonkotsu.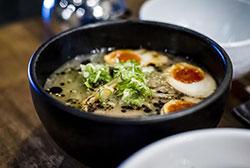 A well-executed bowl of ramen is a delightful thing, an unapologetically rich and hearty mish mash of broth piled high with meat, noodles and veg, a resounding two fingers up to the haute cuisine establishment. The stuff at Tonkotsu doesn't disappoint.
The home made noodles are delicious, the pork belly slices are firm and flavourful, the egg is perfectly cooked and the vegetable garnish fresh and generous.
Even that however was not the highlight of this meal. My oh my, the vanilla crème brûlée; flavoured far more intensely and sweetly than all the others I've tried, with a surface that registered as tissue paper-like on the caramelometer scale and three enormous sweet and ripe blackberries on top, which went perfectly with the vanilla. I want to come back and have three courses just of this.
That Tonkotsu East is good should be obvious by now, but even better is the price. You will have an enormous dinner here for under £20 a head all in, and even half that sum will do you handsomely. If you're having three courses, you should get a half portion of ramen as we did unless you have a sumo wrestler's appetite. If you like Japanese food and love a bargain, Tonkotsu East is just the place to up your cool factor.