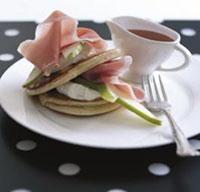 Celebrate Shrove Tuesday in style, with these delightful Parma Ham breakfast pancakes. A classic American breakfast, done the Italian way!
Ingredients:
For 12 homemade pancakes:
150g self raising flour
1 tsp baking powder
pinch salt
1 tablespoon caster sugar
1 large egg, lightly beaten
150ml (5 fl oz) milk
2 tbsp melted butter
A few drops of vegetable oil, to grease
1 x 250g tub Ricotta cheese
2 ripe conference pears, sliced
Parma Ham
Maple syrup, to drizzle
Method:
1. Sift together the flour, baking powder, salt and sugar into a mixing bowl. Add the egg, milk and melted butter, and whisk together. Leave to stand for 15 minutes.
2. Place a non-stick frying pan over a medium heat and add a knob of butter to coat the surface of the pan. Drop tablespoons of the pancake batter into the pan and flip over after a couple of minutes, when tiny bubbles start to appear on the batter surface. Leave the pancakes over the heat for a further 1-2 minutes, until both sides are golden brown. Repeat this process until you have 12 medium-sized pancakes.
3. Layer the pancakes on to six serving plates with ricotta cheese, sliced pear and Parma Ham. Finish with a final slice of Parma Ham and a generous drizzle of Maple syrup.