Restaurants which span multiple cuisines usually make Alex nauseous. In Dock Kitchen, he discovers an exception as he tries out their new Sri Lankan set menu.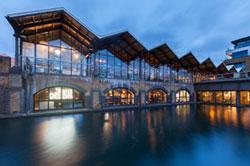 There are solids grounds on which to be deeply suspicious of restaurants which serve up a wide range of world cuisines, whether at the same time or in an ever-changing manner. Such practices are usually the preserve of'World Food' buffet style restaurants, at which you can pile on to your plate a hideous mix of foods such as sushi, pizza, French fries and curry all at the same time. Don't do it – I've tried.
Aside from the revolting combination of cuisines that were never meant to be eaten together, there's a bigger problem: quality. Mastering one cuisine is more than enough of a challenge at the best of times, so places like this often serve up food of a quality that would make even a schoolboy accustomed to school dinners scratch his head in bemusement.
Dock Kitchen do things a different way. Head Chef Stevie Parle has extensive experience in travelling the world and searching for new cuisines, and brings these influences back to Ladbroke Grove where, in a quiet location on the Grand Union Canal, he and his team cook up a set menu from a different part of the world every three weeks.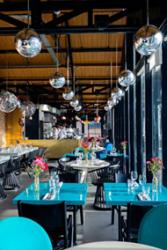 We were lucky enough to be the first ones to sample the new Sri Lankan menu, which runs until the 15th March. Parle is excited to bring back influences from the Indian subcontinent, a region whose gastronomy he's passionate about: "I've spent loads of time in Sri Lanka and it's one of the greatest, and least well represented food cultures around", he says. I was excited to see whether the food lived up to Stevie's words.
Dock Kitchen is a very nice place to be. I must have cycled past it a hundred times, never aware that it was there. The entrance, just off the bridge that spans the canal, is nondescript; it's set back from the road, quiet and intimate. You feel like you've escaped London into a Narnia of world gastronomy.
The interior is clean and modern, with floor to ceiling windows affording a nice view and splashes of turquoise furniture adding some colour. The kitchen is open plan (obviously), not like most restaurants where only some of the kitchen is visible and only for show, but slap bang in the centre of the room with low counters so that everything is on display. It's difficult to believe that the entire 80 cover restaurant is served by just this one kitchen.
To begin with, there are mussels in a tamarind broth, with fine noodles served separately; the idea is you eat the mussels then soak up the remaining broth with the noodles. It's a very interesting dish, not least because I'm accustomed to eating noodles in garlic or white wine sauces, Euro style. The tamarind lends the dish a spice and tang; you wouldn't think of eating mussels in a spicy Asian broth and this really opens up the mind.
The string noodles work well to soak up the rest of the broth, and solve the conundrum of wanting to finish off the rest of the broth but not wanting to lower yourself in polite company by slurping it right out of the bowl.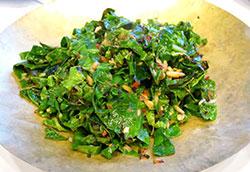 Onto the main then, a thrice cooked black pepper beef shin, which comes with jasmine rice, cabbage mallum and pickled lime. Shin is a tough cut of beef that lends itself to stewing, and to ensure great flavour and texture this one is steamed, then stewed, and finally fried. It rests on the plate like a clump of hair, thanks to being pulled just like you would do with pork.
Thankfully it doesn't taste that way. It's a lovely dish, with moist and delicate bits in the middle and a crispy texture on the outside, the heat coming from the aggressive use of pepper rather than chilli. I wasn't sure what to expect from Sri Lankan cuisine and hedged my bets by telling myself it would be'like Indian, but a bit different'. This is more or less correct – you can tell it's from the same region but it makes a definite change from what you might find at your local curry house.
Jasmine rice is served with a coconut dahl, beautifully light and just the thing to soothe the palate after the pepperiness of the beef. Cabbage mallum is a great stir fry, with just the right amount of moisture and small pieces of fresh red chillies to spice things up, and the pickled lime brings it all together with lovely, tangy flavours.
Watalappan (Sri Lankan custard) and rose poached rhubarb on a bed of yoghurt reminds me of a Middle Eastern dessert, what with that region's heavy use of rosewater. The rhubarbs are beautifully moist and subtly flavoured, and go very well with the watalappan. It isn't too rich or sickly sweet like some desserts can be and the yoghurt helps to freshen and cleanse the palate after the spice of the preceding two courses.
All throughout, presentation was simple and utilitarian, with the focus being on the food and flavours. It's a great chance to eat something a bit different to what you'd usually expect from Asian food, and in a location that's a bit different too. Aside from the changing set menu, there's an a la carte which manages that rarest of feats: to offer some unusual and original combinations that nevertheless all sound entirely appetising.
It may serve up a variety of culinary cultures, but it does this with backbone, knowledge and real culinary skill. If you like Asian food but fancy a change within the genre, you could do worse than to put aside your preconceptions and head down to Dock Kitchen.
The Sri Lankan set menu for the whole table is available until 15th March.
Prices are £24.50 for three courses on Mondays, or £45 for four courses on all other days. Monday's menu includes a glass of house wine.
Follow Dock Kitchen on Twitter @TheDockKitchen