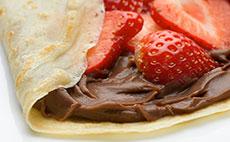 It may once have had a modicum of historical significance, but let's be honest – you love Pancake Day for the pancakes and nothing else. Whether simply drizzled with fresh lemon juice and sprinkled with sugar, something a little more complicated or even done savoury, no one can resist those thin slices of heaven.
With Shrove Tuesday on 4th March, a little under a week away, we've prepared the definitive guide. Whether it's staying in and cooking your own or going out and sampling what the capital's restaurants have to offer, we've got you covered. Sit back, relax, and let us guide you to pancake nirvana.
Recipes
We've collected a range of superb pancake recipes to cook with, or for, your family and friends.
If it's the early morning, how about these Parma Ham breakfast pancakes to kick start your day? If you love the delicacy and saltiness of Parma but don't fancy having it for breakfast, we have a plain old Parma Ham pancake recipe for you to feast on too.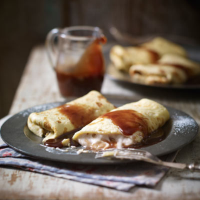 Fancy something a little sweeter? We've got you covered with these rather decadent chocolate Philadelphia strawberry pancakes, and for the more health conscious this Philadelphia fruity pancake recipe uses Philadelphia Light in order to cut down the calories. Or you could just take a complete irreverence towards calorie content and feast on these banana filled pancakes with Lyle's Syrup Drizzle for an indulgent treat.
For the adventurous amongst you, we have something a little different too, in the form of spelt flour pancakes with rhubarb and cardamom, and for a savoury option, creamy leek and mushroom pancakes should provide a warming supper.
What's on
If you don't plan on staying in, here are the things to do in and around the capital.
Aqua Shard, London Bridge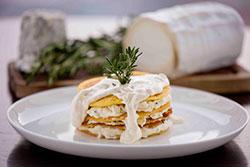 Contemporary British restaurant aqua shard will be running a special menu to serve guests a variety of wonderfully creative pancakes. Guests can opt for savoury corn pancakes with goat's cheese and rosemary for £6.50 at breakfast, or a playful sweeter option of pancakes with strawberry ice cream, maple pecan syrup and strawberry compote at breakfast or as a dessert at lunch and dinner for £7.50. The special pancake menu will be available from 4th – 7th March with £1 of each dish donated to the London Bubble Youth charity, which supports young people in drama.
Aqua Shard will also be participating in London Bubble's The Flipping Marvellous SE1 Charity Pancake Race. Taking place on Shrove Tuesday from 12:30pm, the event will be held at The Scoop in association with Team London Bridge. Aqua Shard will participate in the annual event which will see head chef Anthony Garlando and his team take on other local business to help support the charity. 
Coq d'Argent, Bank
This Shrove Tuesday, Coq d'Argent will be offing its diners the opportunity to partake in a Man vs Pancake challenge: to consume 10 fluffy American-style pancakes in one hour. Created by head chef Michael Weiss, they will be served with blueberry compote, crème Chantilly and lashings of maple syrup, and those who complete the tasty challenge successfully will win a champagne breakfast at Coq d'Argent at a time of their choosing.
Scandinavian Kitchen, Marylebone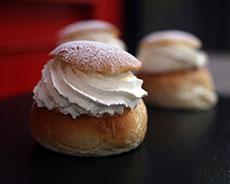 As a Scandinavian alternative to pancakes, Scandinavian Kitchen will be cooking up semla buns, cardamom flavoured buns filled with almond paste and vanilla cream, which are traditionally eaten on Fettisdag (Shrove Tuesday). Baked fresh every morning, expect to see queues out the door to try this Northern European delicacy.
Le Pont de la Tour, Butler's Wharf
For a touch of drama, pancake fans can head to French riverside restaurant, Le Pont de la Tour. Serving classic crepes Suzettes, which has been a fixture on the restaurants dessert menu since opening, the pancakes are served a la flambé at the table.  
The Diner, various locaions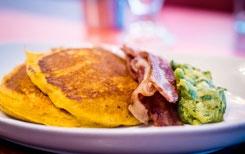 For 48 hours from Monday 3rd until the end of Shrove Tuesday, The Diner will be serving a range of sweet, savoury, and sometimes particularly creative pancakes. Sweet potato pancakes with bacon and guacamole and Oreo pancakes with chocolate sauce are just two of the treats they have in store.
Along with this, The Diner will introduce The Blingcake, a duck egg and truffled honey pancake with Dom Perignon marinated with wild French strawberries, cognac meringue, madagascan vanilla mascarpone cream and gold flakes; giving you the chance to try the Worlds most expensive pancake.
Polo 24 Hour Bar, Bishopsgate
This proper British Café by Liverpool Street Station serves its pancakes three ways, 24 hours a day. Choose from maple syrup and almonds, clotted cream and berry compote or nice and simple with lemon and sugar. A great place to treat the kids if pancake tossing is not your thing! Available all day every day. 
Les Deux Salons, Covent Garden
This classic French bistro will be serving up the traditional Crepes Suzette – a decadent version of the pancake smothered in butter and a brandy and Grand Marnier sauce. Why not let the elegant surroundings of this Covent Garden restaurant transport you to the Rive Gauche this pancake day. This one's definitely for grown-ups! Available all day on 4th March.
Parlour, Kensal Rise
Pancakes at Parlour take centre stage with Head Chef Jesse Dunford Wood dedicating a week long lunch menu extravaganza to the lowly pancake.
A three course pancake menu will include opulent Russian pancakes with smoked salmon and sour cream;  a Parlour firm favourite Slow cooked duck and beetroot pancake and last, but by no means least, a Chocolate and hazelnut pancake cake.  Jesse's fun retro cooking style makes Parlour the perfect place for your pancake party for all ages.
Other offerings
In other pancake related news, One Canada Square in Canary Wharf (which we've reviewed) uses seasonal blood oranges in its pancakes and serves them accompanied with honey butter to create an exquisite and tempting offering. If you're after something even more exquisite, you'll have to head to The Botanist in Sloane Square, which for the meagre sum of £28 is serving shorthorn fillet pancake 'Wellington' with seared foie gras, truffle and bone marrow sauce.
Briciole in Marylebone have added an Italian twist and will be filling their pancakes with ricotta, Sicilian blood orange zest and vanilla, and serving them withblood orange sauce and fresh blood orange segments. £3.90 (2 pancakes a portion). Just down the road, Sixtyone Restaurant will have a homemade Nutella and praline crepe, and a crepe suzette that's finished at the table. Both £8.50.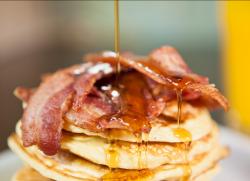 Whip out the stars n' bars at The Blues Kitchen in Camden and have a pancake of Epic Meal Time proportions – we're told the 'maple and bacon pancakes' need to be eaten to be believed.  If you like something lighter and fluffier, highlights from the Riding House Café menu include 'traditional English crêpes with sugar & lemon', or the more exotic 'sunshine pancakes with caramelised banana and rum & raison ice cream'.
At Christopher's in Covent Garden, you will find an assortment of pancakes on offer such as blueberry butter milk Pancakes – served with Blueberry compote, £7; Buttermilk Pancakes – Caramelised bananas, pecans, strawberries & cream, ice cream £8; Buttermilk Pancakes – grilled peaches, salted caramel, ice cream £8. All are served generously with maple syrup for an extra shot of gloopy sweetness.
Finally, head south of the river to Bermondsey to try Village East's American pancake stacks with options on offer including 'buttermilk pancakes with maple syrup & crispy bacon' and 'buttermilk pancakes with berry compote & clotted cream'.