10, Lancashire Court, New Bond St, London W1S 1EY www.mewsofmayfair.com
They don't seem to have my reservation, but they do have a spare table so we sit down. The menu is picked up and there is a problem that my trained critical eye spots immediately. We are in the wrong restaurant.
Cue fast decamp and off to Mews instead, pushing down the cutely narrow little lanes of Lancashire Court full of loud, flabby men wearing suits worth more than my car, shouting and drinking. There's security on the door at Mews, but we pass the iPad test and are taken upstairs to what I remember as a fine dining place, but which has in the intervening years become a brasserie.
I like it better. The room has a good feel; welcoming, unpretentious, softly furnished with cream banquettes and non-matching chairs. The wait staff are friendly, without being in yer face, and the menu a model of brasserie style – burgers, steaks, pork belly, fishcakes, ox cheeks etc. – you know the score. If you can't find anything you fancy here, you're probably not hungry.
I'm starving despite a big lunch, in fact I'm beginning to worry that my stomach is becoming too accustomed to excess food. I reign in my instinct to go large and go instead for double cooked goat's cheese soufflé as a starter.
Not as dramatic as a true soufflé, it's a kind of deflated airship on the plate, it is however very goaty and smooth, a little creamy nimbus on the tongue. Around the plate are dotted beetroots, nuts and a sugary crispy dust. I like this a lot, the goat cheese loves it too. The sweetness and crunch stop the soufflé being too mimsy and a goat's cheese and beetroot combo rarely fails.
P has New Forest mushrooms on a brioche slice with broccoli puree and creamed potatoes.  She thinks the variety of mushrooms is a real plus point, some are firm and some are slippery and all taste properly bosky while the brioche, which at first we mistook for a slice of Mother's Pride as it was so regularly rectangular, adds another texture as well as a sugary kick. It's not food to set the culinary world on fire, but it is well-done and enjoyable.
Looking about the room between courses reveals a good mix of people and it's a busy place with everyone seemingly happy. The soft decor is helping control noise levels, which is great because while I like a room that has a buzz to it all too often modern design creates a room where your ears are assaulted non-stop by crashing cutlery and by the conversation of crashing bores.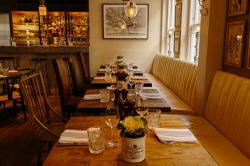 Twice cooked pork belly for me next, cooking things twice is a bit of a theme here it seems, I can't help wondering why they can't get it right the first time. Only joking chef. This dish comes with apple done a few ways – jellies, mandolin thin slices, a partially rehydrated section. The last I don't like much, it's chewy in a bad way but the other apple does the right job of cutting the fattiness down to size.
It's belly good this belly, cutting easily and with the flavour of a decent breed. My only real complaint is that with three slices of belly I'd have expected to have received three slices of the gorgeous crackling, not just one. I look around the room suspiciously to see if anyone has my crunchy treat but everyone looks innocent. I spoon on some more mash, smooth and well fluffed, and brood briefly about pig skin
P has the day's fish special, an annoyance to me as I have to take extra notes because it's not on the menu. More annoyingly I now can't find my notes. A yell down the stairs brings back the information that it was monkfish wrapped in ham and served with some kind of potato cakes. This information is probably of no use to you, as they may never have it on the menu again, but P does mention that she thought her fish slightly overcooked. She did however leave her plate wiped clean.
And so to pud.  My passion fruit cheesecake could have been a bit more sour, as sour as I was over my lost crackling, but it was still fine and the sharp lemon sorbet and the spikes of red chili kept it from being oversweet. P had rhubarb and custard pimped with stem ginger and some puff pastry. The ginger was a sensible choice, its strong flavour playing off against the oxalic rhubarb and all sweetened by the rich custard.
Overall it's a meal worth the money. The restaurant has the feel of a secret only known to a few, hidden away as it is, and the food is above average for the style. All in all I'm glad we didn't stay in that wrong restaurant.