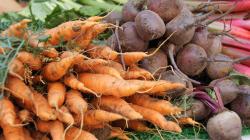 West London's brand new Wild Food Market, in Brook Green, is a one-stop-shop for  fresh produce, on-trend street food, innovative master classes and maybe somewhere to meet some new foodie friends.
The Wild Food Market pops up at Addison Primary School every Saturday from 10am – 3pm. You can expect to find an array of locally-crafted artisan quiches and tarts, cured meats, English cheeses and gourmet cakes, as well as a wide variety of locally sourced, fresh and seasonal fruit and veg.
Those wanting to hone their food and drink knowledge can take part in the market's master classes which use only the fresh market produce.
Organiser Pushpal Dhawan is not only passionate about quality food but he's also committed to making he market a fun, unique and exciting place, where food fans of all ages can socialise, learn and eat as they go.
With five-year waiting lists for a pitch at the popular Portobello Market, Pushpal had to think outside the box and approached several locations in West London with his proposal, and soon Addison Primary School showed interest in his vision.
His dream is for Brook Green Wild Food Market to become a platform for all manner of interesting food and drink retailers, artisans and cooks to showcase their trade at the market and bring a new slice of food market culture and gastronomy to this charming residential area.
 Plans are also afoot for a Brook Green cookery school, foraging trips and pop up restaurants across the capital. But it doesn't end there – Pushpal wants to spread the Wild Food message far and wide, from workshops showing people how to grow herbs in window boxes to publishing a book about the evolution of this community market.
For now Pushpal's Wild Food Market is just the ticket for a day out with the kids, coffee with a friend or a solo stroll to pick up some much needed sustenance for a busy week ahead.