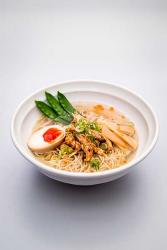 Tonkotsu, the specialist ramen bar that opened in Soho two years ago, with another site shortly afterwards in Haggerston, is set to open a brand new site in  Selfridges, on Friday 10th October.  
Tonkotsu Selfridges will serve up an exclusive Chilli Chicken ramen alongside Edamame Beans, Pickled Cucumber and Gyoza.   Other ramens include the eponymous Tonkotsu, made with slices of pork belly with a  pork stock broth as well as a miso variety made with Shiitake mushrooms for non-meat eaters. Whoever they are.
Tonkotsu Selfridges will also serve a range of London and Japanese beers including Yoho Beer, which is exclusive to Tonkotsu and the only restaurant in London to serve it. 
Ramen is a Japanese noodle dish containing stock – usually pork and chicken – with a special wheat noodle and toppings including marinated egg, slices of pork, wakame seaweed and bean shoots.   Tonkotsu is proud to make all its noodles in-house thanks to their bespoke noodle machine, giving a fresh, springy noodle.  Tonkotsu – literally meaning'pig bones' and is the name of the richest, porkiest ramen dish – serves a variety of completely authentic, delicious, short-menu ramen with various starters, sides, artisan Japanese beers and whiskies to complete the menu. 
More about stocks, new menu items and techniques are uploaded regularly at www.tonkotsu.co.uk
@tonkotsulondon
#happyramen
Tonkotsu at Selfridges
Selfridges Food HallOxford StreetLondonW1A 1AB
Photo by  Paul Winch Furness