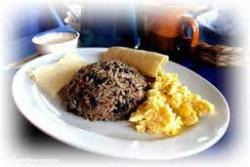 Costa Rica is a top tourist destination with travellers drawn to its bio diversity and the chance to meet wildlife including sloths, monkeys, jaguars, pumas, crocodiles, toucans and parrots. But people don't necessarily come here for its cuisine, although coffee and chocolate tours form part of the tourist offering
Costa Rican food, although unsophisticated compared to some Central and South American countries, is simple and wholesome and uses some of the finest ingredients to be found in this part of the world. Ticos (the name Cost Ricans give themselves) eat healthily and heartily and the best meals are those cooked by locals in their homes (if you're lucky enough to get an invite) or in their homely roadside cafes
Rice and black beans tend to feature heavily in most meals, often served for breakfast lunch and dinner; Gallo Pinto is a breakfast dish of rice and beans mixed together with onions and bell peppers is often considered the Costa Rican national dish. It comes served with eggs, toast, tortilla, fruit and anything else to hand
A typical main meal is the casado, the name referring to the eternal "marriage" of its components. Consisting of rice and beans, meat or fish, fried plantains, and a carrot, tomato, and cabbage salad,
The plantain, or plántano, is probably the favourite  Tico snack. It has the appearance of a large banana, but cannot be eaten raw. It will often accompany most meals. When sliced thinly and deep fried, the plantain becomes a crunchy snack like the potato chip. Arroz is a dish of fried rice which can come with chicken (pollo) or shrimp (gambas).
Ticos tend to drink beer, mainly Imperial or other lagers but fresh juices  frescos are delicious here and agua dulce is water sweetended with sugar cane
On the road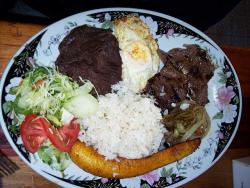 Dining out in Costa Rica varies from big Spanish style restaurants in the capital San Jose to simple'sodas' or small cafes dotted along the roadsides. The name dates back to the time   when American workers were building the Pan American highway in the 1950s. Needing somewhere to keep their crates of soda cool small roadside shelters were made which soon began to sell local food and snacks as well. Sodas can be found throughout Costa Rica and are often the best stop for a quick taco or empanada and a taste of Tico culture
Sodas can be found around the bus station at Liberia, the main town in Guanacaste, which is swarming with people, either shopping at the busy market here, or waiting for the bus which takes them over the border to Nicaragua.
I stopped for a piece of roast chicken and some plantain pickle before getting back on the road. Costa Rica is small enough for nowhere to be more than eight hours away, so you can see a lot of it by car, which makes for some interesting dining
Larger cafes such as AromaTico in Tilaran serve up a Costa Rican buffet during the day and sell great coconut desserts which taste best washed down with a cup of Costa Rican coffee.
But my favourite road side stop was the service station and café at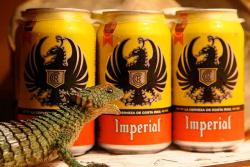 La Finca just off the Pan American. People stop here not just for the coffee or to fill up with petrol, but to see the spectacular show put on by a crowd of flamboyant macaws who pose unashamedly for cameras.
Like anywhere, seafood is best enjoyed near the sea and the view from the beach front La Fiesta del Marisco restaurant in Tarcoles is of the calm blue Pacific Ocean. Little wooden boats bring lobsters and other fish ashore to this busy bar and restaurant which is also home to a fish shop. The signature platter comes with sea bass, prawns and calamari served with rice and plantain on the side.  There's a few chickens pecking up crumbs from the floor but otherwise fellow diners are locals, the odd tourist and families
Days earlier I had my head in the clouds when I visited Costa Ricas Monteverde region, renowned as one of the most extensive cloud forests in Central America at 5,900 feet. The pretty village of St Helena here is like an Alpine village, packed with cosy wooden cafes and hostels. I stopped at Amys, a vibrant family-run restaurant full of hikers and  birdwatchers in search of a hearty meal. Amys speiclaises in steak but I began the meal with a ceviche which was made with seabass, a slightly unusal take on a traditionaol dish  The steak was superb and, unusally for Costa Rica, the wine list was extensive. Service was personal and friendly too, which is not at at all  unusal for Costa Rica.
Fiesta del Mariscos
Ruta 34 | Frente al Mar, Playa Tarcoles, Tarcoles, Costa Rica
Amy's Cuisine
Diagonal Al Almacen Vitosi, Costa Rica