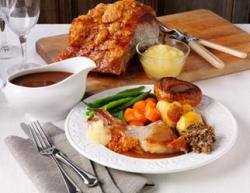 Loin of pork is wonderfully tasty and really zings in this timesaving recipe with the addition of roasted sweet root vegetables. Crunchy crackling and succulent pork are further enhanced with deep and rich onion gravy made with a Knorr Onion Gravy Pot. Serve with green leafy cabbage and enjoy.
Succulent roast pork with crunchy crackling goes down a treat with family and friends – especially when served with a pour of Knorr Onion Gravy Pot.
Ingredients
1.35kg piece of loin of pork3tbsps olive oil1 medium onion, halved2 large carrots, halved lengthways100ml dry white wine2 Knorr Onion Gravy PotsSalt
Method
Pre-heat the oven to 220°C, Gas Mark 8.
Dry the pork loin well and, using a very sharp blade, cut slashes in the skin spaced about 2cm apart. Rub the oil into the skin, including into the slashes. Sprinkle with salt.
Place the onion and carrot in a roasting tin and top with the pork. Roast in the oven for 1 hour 40 minutes, basting every 20 minutes or so with the juices from the meat.
Remove the roast pork and set aside, keeping warm.
Discard the roast onion and carrot from the roasting tin. Place the tin on top of the hob over a medium heat and pour in the wine. Add in the Knorr Onion Gravy Pots and 450ml warm water. Whisk together as you bring it to the boil and boil for 1 minute.
Serve the roast pork with the onion gravy and vegetables of your choice.