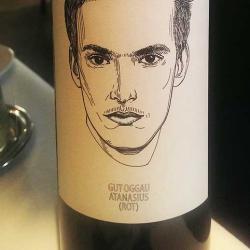 Tasting menus are not to everyone's taste, it has to be said. A marathon of munching they can begin by delighting and end up with you becoming rather resentful when another course arrives,'please leave me alone, I just want to go home.'
Of course you have to pick your time, an afternoon to recover rather than straight home to bed and it was with this in mind that we set out to lunch at Drakes of Ripley on a gorgeously hot sunny day.
Ripley is such a quintessentially pretty little English village that you look around to see if you've stumbled onto a film set. Only the dry cleaners with its terrible 70's window strikes a wrong note. Drake's itself is one of the most gorgeous buildings there, a wide fronted Georgian red bricked place with a mushroom tinted luxurious large dining room off to one side and a coolly tempting walled garden out back. Owner-chef Steve Drake, who trained under Marco Pierre White  amongst others but doesn't seem to bear any scars, has been effortlessly holding onto a Michelin Star here (one is enough because, as MPW himself once told me, three become a burden) for some years now.
Amuse bouches in that lovely garden, with some champagne of course, set us up and hint of what's to come. Pretty little things that glitter in the sun and pop with flavour in the mouth. We get them down and then with sunglasses off head into the dining room.
For a lunchtime it's full, a mixture of retired well-heeled people and ladies whose husbands are probably in the City, their clothes speaking more of Bond Street than Matalan. Well-spaced tables mean people aren't afraid to talk and a pleasant buzz is in the air.
The Flavour Discovery menu is our choice, and with 9 courses I think we may need a Range Rover Discovery to get to the end of it, but off we go.
The menu gives no indication of how the dishes are cooked, just what's in them, which promotes anticipation. Broccoli, Green Strawberry and Caper Berries is broccoli micro shaved horizontally which gives it a frond like appearance under a crispy hat. A mixture of textures and flavours subtle enough to give pause while suggesting how the meal will progress.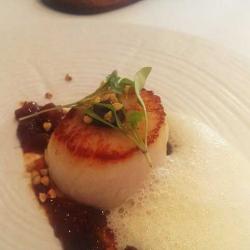 Scallops, pear and saffron buckwheat and lemongrass come with foam, something which drives young London eaters into a fashionable rage. It still works though, scattering flavour across the palate and the scallop is perfectly caramelised on the outside, butter soft and barely cooked inside. The lemongrass loves it, that citrus twang is just right.
Would you consider putting guinea fowl and squid, peas and sweetcorn in the same broth? Well chef does and it's a bit of a standout dish for me as I love both bird and cephalopod. The dish is served with the broth added at table for added effect; the guinea fowl is soft with just enough bite while the squid is resistant for a second before succumbing, which is just how squid should be. The broth is intensely, deeply flavoured.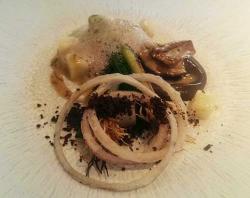 Surprising is Grilled leek, onion and mushroom milk. The ingredients are almost mundane but the grilling produces a rich sweetness from the leek that is surprising and again the play of flavours make it necessary to concentrate.
The marathon runs on with John Dory, Cucumber Ketchup, Lemon Thyme, Kohlrabi; a light dish of adroit flavour pairing then followed by Cornish Lamb, Parsley, Samphire, Pickled Rhubarb.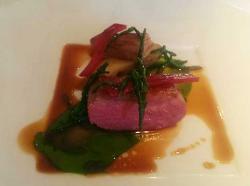 Lamb can be a killer on these tasting menus, a straw to the foody camel's back but here it's a neat portion with fattiness cut by the rhubarb and the saltiness of the samphire and with a jus that's a taste bomb of reduction.
And running up to the wire there is'cheese on toast', not a slice of Mothers Pride with rat trap cheddar, but a crunchy slice of baguette topped with semi-melted cheese and a strawberry -an intriguing play of textures, fats and acidity.
Mint and pea ice cream is a palate cleanser, a tiny portion with crunch hidden underneath, while the final dessert is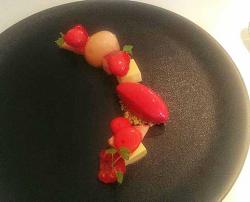 Grapefruit Curd, Peanut, Passion Sorbet – a fun play on sharp and sweet.
The journey is over and I wish I had space to praise the selection of wines by the glass more fulsomely.  Expertly explained without pretension, and chosen with some skill, they made the meal even more of an experience.
Quite simply this fine dining done without pretension and with a love of ingredients, not love of fussiness. Each dish is visually exciting, each taste something new and stimulating. Grown up kind of dining that's a treat to indulge in
Photographs taken with mobile phone out of respect for other diners. Quality therefore lacking. Sorry.