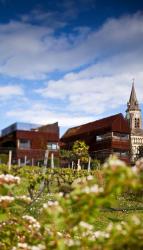 Le Saint-James Hotel, located just 10 minutes from central Bordeaux has launched an exclusive new Jean Nouvel package. The package offers guests the opportunity to discover the best of the hotel's Michelin starred gastronomy, as well as some of the works of the iconic French architect, Jean Nouvel who designed Le Saint-James.
The package, costing from 495 Euros for two people, includes a VIP welcome, a night's accommodation with breakfast, a Michelin starred dinner in the hotel's restaurant, a private tour of the 'Château La Dominique' vineyard in Saint-Émilion and lunch at 'La Terrasse Rouge' restaurant.
Jean Nouvel transformed the 18th century farmhouse into a hotel in 1989. His creative objective being to create a design that opened onto the natural surroundings and to frame and present nature as a work of art. The chic, contemporary hotel is considered by critics to be'ahead of its time' with a black lined swimming pool and an open plan minimalist style.
The design was inspired by the traditional tobacco drying barns of the region. There are 15 unique bedrooms and three suites including the Harley Davidson suite and the rooftop Jacuzzi suite. Each bed is in line with the expansive windows, so guests can make the most of the unbeatable view of the Aquitaine countryside and Bordeaux from their pillow.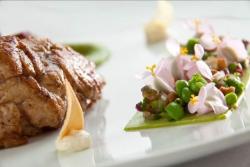 Nouvel's latest design is La Terrasse Rouge, the restaurant and winery at 'Château La Dominique' with a rooftop  covered in a carpet of red stones that imported to Bordeaux from Shanghai.
As well as the private tour of this vineyard, also included in the package is lunch in La Terrasse Rouge where guests will once again be able to sit back and admire the works of Jean Nouvel.
Dinner in the hotel's restaurant will be cooked up by Michelin starred head chef Nicolas Magie and served with wines that have been specially selected by the hotel's head sommelier from their vast wine cellar.
The hotel also has a cutting edge cookery school, "Côté Cours" where guests can enjoy fun and relaxed cookery classes that can be tailored according to the varying abilities. Wine tasting sessions are also available.