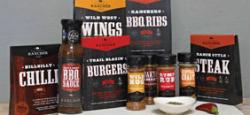 What does a California rancher know about barbecues? Don't all Californians eat tofu, drive Priuses and stupidly ban delicious foie gras? Or is is this a terrible stereotype?
Well perhaps not as California Rancher is the name of a large range of BBQ spices and sauces and to prove it we received a sample gift pack to fire us up as the sun struggled to come out. In fact the California Ranchers are based no further west than Bristol, but they use traditional recipes, techniques and flavours that date back to when men were men and died with their boots on and all genuinely developed in California.
We tried the Hillbilly Chilli Mix a blend of chipotle, ancho chilli, cocoa, cumin and oak-smoked sea salt. The beauty of ready mix spice packs is of course that the spices stay fresh until the bag is opened. This had plenty of lively aromas and we dumped it onto our lean braising steak, added a tin of chopped tomatoes and then, as recommended, gave it around 3 hours in a low oven.'Low and Slow' being the essence of good American BBQing. The result was very different to our usual rather anglicised chili, particularly good was the slow burn of the ancho chili, it crept up quietly. All in all a good effort on the taste front.
Some of the spices come in jars to be shaken and rubbed onto meats. Wild Hog seasoning added easy interest to some pork chops and, interestingly, as we had two cooked chops uneaten, we diced them up the next day and added the meat to couscous. The seasoning seeming much stronger for its overnight resting and the result was a very tasty lunch.
Oaky and Smoky seasoning went onto a selection of chicken thighs and drumsticks before grilling on a gas barbecue. Gas doesn't add any flavour, unlike charcoal, but the seasoning made up for that and did the business very well. In fact the seasoning blend also appears in their BBQ Sauce, Winner of 2011 Great Taste *GOLD* and Taste of the West *GOLD*. Unlike so many BBQ sauces, this isn't sugary ketchup for children, but a genuinely tasty treat. I added some to the kids' fried eggs and it went down well for an adult product.
We didn't get around to trying the'Trail Blazing Burger Mix'  (perhaps Ainsley Harriott has had a hand in naming some of these?) as we can't be bothered with burgers, but the Ranch Style steak kit made a fairly cheap steak taste a lot more interesting. A really good steak of course needs nothing but salt, pepper and a dash of mustard to set it off.
Wild West Wings, another kit of spice and sauce, made a very good job of chicken wings, making us wonder just how long the craze of rebooted KFC in London will last once people find out how very simple it is to do at home. You can even Tweet while eating your wings if you're looking for that authentic London foodie experience.
The rib kit will have to wait for a quieter weekend because double foil method apart, good ribs need hours and hours over coals and we haven't had a chance to do that yet. Or the weather.