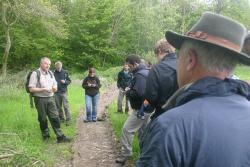 At the fourth mention of Great British Menu I'm beginning to think that this chap picking off greenery and stuffing it in his gob is on commission. The Beeb though is not into that kind of thing.
But foraging – now that's something the GBM chefs are into. And unless you've been living on the moon, you'll have noticed the 'concept' is pretty big in a lot of the top end British restaurants too.
Take Simon Rogan, who might as well have laid a polished apple on the judges' table alongside every dish he served. He was a particular advocate and his 10-course tasting menu at Roganic is peppered with foraged ingredients.
My only previous experience of foraging was mushrooming with my father-in-law. He first took me out about five years ago and we plundered the fields and forests of Yorkshire together. I loved it, you never knew what you'd find and sometimes you'd stumble upon a real bounty. I'd tell anyone who kept still long enough that it seemed a lot like fishing, only less wet.
One of his favourite foraging authors, who we'd turn to to identify fungi, was 'Mr Mushrooms' Roger Phillips and instructors with Woodland Ways admitted at the end of our one-day course that they would often look to the very same man.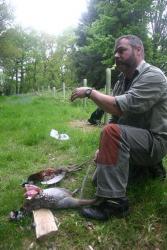 The Woodland Ways Spring Forage is just one of many courses and workshops offered by the group, teaching you how to recognise the yummy plants from the so-unyummy-you-could-end-up-in-a-coffin plants. Their groups of 10-12 mean you've got plenty of opportunity to put questions to the two instructors who are clearly both immensely knowledgeable.
Held near Appleton, in Oxfordshire, the program is pretty simple. After a short briefing the group wander down a few country paths stopping occasionally while the instructors identify and discuss various plants along the route and their uses, both edible and inedible (medical, for example). Then, at the end of the day, and with a basketful of foraged ingredients, you make yourself a late lunch in the instructors' camp.
So after a chat about the various dangers surrounding foraging, burdock is first up, with roots we're told that must be peeled then boiled or roasted before being eaten. Plantain is next. Phillips isn't a fan, calling it 'tough and bitter', but Kevan Palmer, our instructor, points out the plant is also a cure-all, it's useful for IBS sufferers, an antihistamine, able to help clot blood, a cooling treatment for wasp or nettle stings…you get the picture.
Talking of nettles, they're sitting close by and, apart from the obvious nettle soup, can also be used lightly steamed, 'like much more nutritious spinach' as well as in teas when the leaves are dried.
Later we find sweet woodruff, which we're told has been reported as a useful alternative to rennet and again as an antihistamine. Hogweed shoots, according to Phillips, are 'unequivocally one of the best vegetables' for eating. Hedge garlic is a new one on me, a beautiful, subtle flavour and ribwort plantain is excellent, with hints of mushrooms while the leaves can be used to rub on nettle stings. Wood sorrel is my own revelation of the day, a tangy, tingly, almost sherbet taste.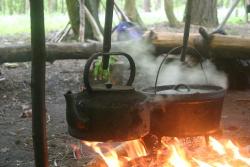 Then it's time to eat and in keeping with the day's theme, lunch is pheasant and the group take it in turns to butcher the birds with the breasts pan fried while herbs are chopped for a soup and there's also a delicious tofu dish for the veggies. The creamy nettle soup starter is probably the star of the show though, with a douglas fir needle stock and added chickweed, goosegrass and wild garlic.
Starting at about 9am and finishing around 4pm it's a fantastic and tiring day, but coming out with a belly full of fresh-as-you-like food and a head full of inspiration is well worth it.
For more information about Woodland Ways foraging courses log on to www.woodland-ways.co.uk
At the time of writing, the next available foraging course was being held on Friday, September 7.