The Fogle is back, huzzah! He's been off my radar since the whole'being spiked with LSD' debacle, which is a really trashy trick to pull on anyone, let alone old Benny-boy. How can anyone want to mess up The Fogle? He's a legend, what's your problem?
So what's he got up his sleeve this time… ah… well, have you ever been on a cruise? I have, I didn't like it. Arguably I was too young, but there just never seemed to be anything interesting to do apart from see historical sites or kick a football with a washed-up footballer that your dad remembers as being bloody brilliant. Good thing is, Ben's cruises aren't like that…
The Fogle's got a new role as "Destination Expert" with Celebrity Cruises, creating a series of shore excursion programmes that I would have enjoyed more than nutmegging Gordon Banks or waiting in the Pompeii gift shop for the bus back to the boat. Had they taken all his suggestions then "Troll Hunting" in Scandinavia would have made the list, but we have to be grown-ups and leave the trolls alone to sleep under their bridges waiting for their epic rematch with Three Billy Goats Gruff.
Still, the excursions do sound interesting and worth considering. They're designed to get the people off the boat and immerse themselves in the role of an explorer. For example, you can go kayaking through the Stockholm archipelago… did you know there are over 30,000 islands there?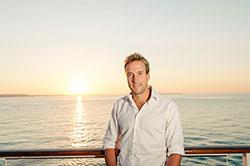 Other adventures include snorkelling with salmon in Norway, speedboat rides and triathlons in Croatia but if all that sounds way too energetic and uncomfortable then there are some nice gastronomic experiences. I got a sneak peak into what's in store for the Sicilian Gastronomic Tour, which for a foodie does prick up the ears because Sicily is one of those destinations you want to go to and eat.
Ben joined us at Food at 52, a charming cookery school in Clerkenwell that I've instantly grown fond of and will be visiting again. The staff talked and walked us through preparing our own two-course meal of'Pollo Soffritto' and'Amaretti semi-freddo'. For the non-Italian speakers, that's braised chicken stuffed with cheese, herbs and thinly-sliced cured ham and a semi-frozen dessert that incorporates some nice, freshly-baked biscotti.
Would I go on one of these cruises? Yeah, course I would. If there are properly thought-out experiences that have elements of food, adrenaline, nature and culture involved then I'm sold. It's at least worth having a look at the website and learning more.