On a typical rain-swept January Wednesday, I meandered around the bends of the Tham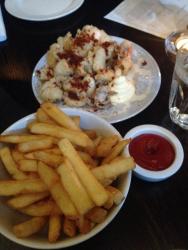 es for an evening of cultured nibbles and a respite from the now-confirmed wettest January on record.
London is a city of endless date combinations, but as we inch ever closer to the day of romantic reckoning (keep your chocolate-covered strawberries peeled for our What's On: Valentine's guide) we always return to that classic: dinner and a movie, a classic second date option when you're more or less sure that you'd like to spend more than just casual drink together.
All across our great Capital there are literally oodles of cinemas hosting every kind of film from blockbuster to Buster Keaton retrospectives – and for the latter, there really is one place to go – BFI Southbank.
Benugo, public space coffee-slingers by morning, deli by day and fine dining by night have a large space inside the BFI that is half lounge/half tightly packed elbow-width tables, set with red lamps and low lights.
Large and central enough for more than a few revellers, the bar staff make a mean dry martini (always welcome as a gussy-upper or calmy-downer) and for a wet and not particularly wild Wednesday it was pretty busy with local office types, tourist types and fans of film types.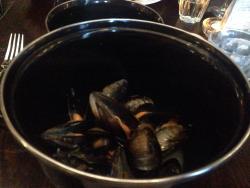 So: what's the menu like? Sadly, kind of confusing. On the website, the menu is a picture of clarity, with easy to read columns and simple presentation. In the restaurant, Fried and Pasta are under one heading (is it squid pasta? Who knows!) and the rest of the menu seems jumbled. Thankfully, helpful wait staffed decrypted it for us, and we started with a whole array of nibblets, and yes, the aforementioned squid was sampled. Crispy and served with a citrus mayo, the squid was diddly-done crunchy and well spiced, and was one of the nicest starters on the menu…and we should know, because we totally went to flavour country and ordered a load of them.  
Keeping the squid company and testing the strength of our table, we also went for a portion of fries (classic + crispy) and braised Ox cheek with celeriac remoulade. The Ox cheek was tender and could have had a little more flavour, but it fell of the bone so succulently I find that I couldn't begin to complain.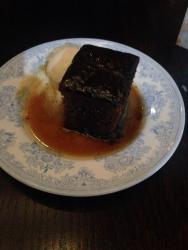 After we munched our way through all of that we went on to mains. Having enjoyed the squid, I decided to get back in the sea with a pot of moules mariniere, which was a nice size for £13.00 – enough for a main and nothing going to waste. We also sampled the pork belly; tender and well proportioned and nicely presented, and well priced at £14.50. That seems to be Benugo's order of every day, well proportioned and decently priced.
Having a famously sweet tooth I couldn't resist a pudding-laden desert. The sticky toffee was sticky and delightfully sweet, and the toffee pond surrounding its puddingy goodness was gooey and not too thick.
So, confusing menu aside, what did I think? Benugo at the BFI is well priced and proportioned with a good drinks menu and a hip London vibe. Not too stuffy for a good time and not too rowdy either, the trendy and dark interior makes it a great place to meet for after work cocktails or a pre-film dinner.