A new Paul A Young collection is always cause for celebration. Apt, then, that the first specimen I pluck from this lovely Valentine's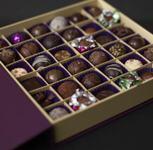 lot is a'Champagne cocktail' with a filling as moussey as the head on a glass of the finest vintage tipple of that type.
Seasalt caramel is the archetypal Paul offering; offering a moment of pleasure not unlike the first time your Grandpa gave you one of his delicious butter candies. Then chai – oh, my. This choc is every bit as milky, sweet and spicy as the Indian tea blend that lends its name to this truffle.
From chai to pie – and a beautiful banoffee bon bon that does its job just like Ronseal, but thankfully tastes nothing like it. A praline, meanwhile, is richly roasty – capturing the flavour of toasted hazels in a nutshell. Or a chocolate shell, if you're being pedantic.
'Romantic' is preferable to pedantic on Valentine's Day, and Paul's rose and geranium martini has got me head over heels in love. Forget sickly floral fondants; I fancy this intense flavour far more. A dreamy creamy and tangy passionfruit ganache moves me just as strongly.
By nature, I'm a lover not a hater – and that extends to my feelings towards Britain's most divisive bread spread. Pressing a box of Paul's beguiling Marmite truffles into my hands would have me seriously impressed. This choc ticks all the boxes; sweet, salty, sour, bitter, savoury.
Equally worthy of savour is the flavour of a chocolate chunk whose salt-and-pepper combination is more common in bags of crisps than boxes of posh chocs. The plain Ecuadorian truffle needs no seasoning; its 85% cocoa content a favourite of this particular seasoned chocoholic.
When you crave cocoa it's not always easy to get your five-a-day. So adding rhubarb to another of those runny caramels is a kind move on Paul's part; the sharp fruit mingling with tingling pink pepper to spendid effect. The 'Valentine's Breakfast' goes a step further, effectively shoehorning an entire meal into a tiny truffle tasting of toast and marmalade.
I could eat an entire meal composed solely of Paul's snow white Battenberg truffles. Forget letting me eat cake; just let me at these, please. The 100% raw chocolate ganache sweetened with agave is the ebony to the former's ivory – a properly fruity beauty.
Much like Beyonce, I'm starting to feel a bit drunk in love. And the boozy Champagne truffle I select next seals the deal, melting in my mouth and making my heart melt as it does so. I try the Love Potion last, but it's really not necessary – I fell under Paul's spell long ago.
Paul A Young's Valentine's collection is available from Paul A Young boutiques, priced from £2 for a single truffle to for £65 for a 42-piece box. For more information and to find your nearest store, visit paulayoung.co.uk