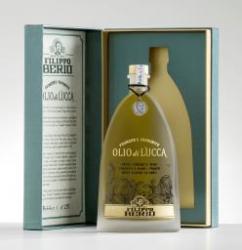 Filippo Berio has launched a luxury, limited edition extra virgin olive oil produced from same estate where the man created his signature blend almost 150 years ago.
Just 250 bottles of the 'Founder's Favourite' Olio di Lucca have been produced globally. Using handpicked, specially selected Moraiolo, Leccino and Frantoio olives from Tenuta Maria Teresa in the hills above Lucca, home of Filippo Berio.
The 'Founder's Favourite' Olio di Lucca' is produced from the very first cold pressing of the 2013 harvest and bottled unfiltered to preserve the unique, pure properties and flavours of the olives.
The result is claimed to be 'beautiful, delicate oil defined by intense notes of vanilla and fresh olives. To the palate there is the fruitiness of olives captured at theiroptimum ripeness and intensity accompanied by notes of fresh grass, ripe tomato and a hint of artichoke. The aftertaste is soft and sweet with almond notes.'
Well that's quite some oil.
A pure extra virgin olive oil  should be appreciated while young – known as'Olio Novello' -simplywith fresh warm bread, Bruschetta, delicately over seasoned vegetables or salad, or just on its own
Available online from www.filippoberio.co.uk and www.justsoitalian.co.uk, each limited edition 500ml bottle (RRP£100) is individually numbered and presented in a distinctive glass bottle with an ornate pendant showing the founder's image and a gift box bearing his signature.