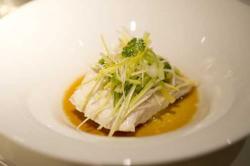 Locksbottom may sound like a particularly unsavoury medical condition, but is actually a well to do area of Bromley, south London and home to Chapter One restaurant. With a Michelin star, 4 AA rosettes and glowing reviews (most recently in the dead tree press from The Independent's John Walsh and online at Andy Hayler's blog )it would be unfair to say that Chapter One is overlooked or undervalued. But given the quality of chef Andy McLeish's food, I'm not sure why it isn't raved about even more.
Which was why I was happy to accept an invitation to one of Chapter One's regular gourmet nights. It was an extra special occasion as McLeish was cooking alongside Locksbottom resident Gary Rhodes in aid of Mandarin Oriental Hotel's executive chef David Nichols Spinal Injury Foundation .
The evening began with a champagne and canapé reception in the bar. I say canapés, they were in fact more like fancy tapas. From somewhere, I conjured up enough self restraint not to gorge on the waves of smoked eel on pumpernickel with horseradish and beetroot; butternut and sage risotto; venison Wellington; fish and chips; chicken satay and butternut and feta croquant with a butternut veloute, knowing that there was six course meal on the way. I did however succumb to the stupidly delicious sweet and sour chicken and the smoked eel veloute with eel brandade
We made our way through to the sleek, modern dining room (fitted out by Brighton-based company Design LSM who are very busy little bees and responsible for dozens of restaurants including the stunning Galvin La Chapelle and street chic Roti Chai among many others), where Nichols addressed the crowd to explain about his charity.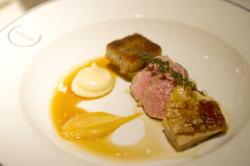 'My son Dan used to work here at Chapter One when he was about 17 – 18 while he was doing his A levels and then took a gap year and went to Australia,' said Nichols. 'He did nothing wrong. He was swimming on Bondi Beach between safety posts, dived into a wave and hit a sandbank. It left him paralysed from the neck down. The worst thing I've seen in my life was my son laying in bed unable to move.'
'That being the case you've got two choices, you can either do something about it or just accept it. The medical evidence then was so stacked against people getting better that I decided we were going to start a charity. I knew that, with the help of my chef friends throughout the world the one thing I could do is raise money.'
Since 2008, Nichols has raised an impressive £2.7million and announced at the event a donation of £1million to further the work of Professor Geoffrey Raisman of the Institute of Nurology who is researching the 'Repair of Injuries to the Spinal Cord and Spinal Roots by Transplantation of Olfactory Ensheathing Cells'. Nichols says Raisman is ' three or four years away from a cure for paralysis', providing an incredible and uplifting thought to ponder over dinner.
We're also given something else to ponder, albeit of far less import. The dishes will be served without attribution and we have to guess which are McLeish's and which are Rhodes. To a long term Gazza fan like myself (I saw him on his theatre tour back in the early 90's when he cooked on stage at the Brighton Dome and did a Stars in Their Eyes-style Gary Glitter impersonation – something he's thankfully unlikely to repeat anytime soon, for all sort of reasons) this is frankly a piece of piss.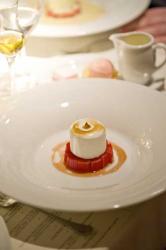 Rhodes's style is so well developed and distinctive that homemade truffle crumpet, seared foie gras, poached hen's egg, hollandaise sauce, and steamed seabass, creamed potatoes, spring onions, leeks, candied ginger, soy and sesame vinaigrette can only be the chef-formerly-known-as Spikey-Top's doing. They are both winning dishes, with the crumpet and foie gras combo being the highlight of the evening. Yes, its rich but not overbearingly so ( a bit like Chapter One's customers by the looks of them) and its a well judged portion so there's no chance of spoiling appetites.
Given that there are over one hundred guests eating the same menu and being served pretty much all at once, its nothing short of astounding to deliver a piece of sea bass that's steamed just so. This is banqueting food, but not as we know it. It's no doubt cleverly designed so that it can be served in large numbers, but there's no feeling at any point in the evening that we're being short changed by the kitchen with dumbed down food – any of the dishes would fit happily on an a la carte menu.
McLeish (who was responsible for all the canapes) comes up trumps with his amuse of game consommé served in a tea cup with a very fine brunoise of root vegetables at the bottom served with a warm brioche stuffed with chicken liver parfait on the side, and a main course of rare breed pork with crushed and caramelised apples, confit garlic, smoked purée and a thyme calvados jus. They are delicious but don't quite hit the heights of Rhodes's savoury courses.
Eric Narioo of Le Caves de Pyrene, wine suppliers to many of London's top restaurants, is on hand to explain his selection of natural wines to the gathering – after they've sorted out the squealing feedback that's emanating from the PA system that is. For a while I think I've been transported back in time to an early Jesus and Mary Chain gig.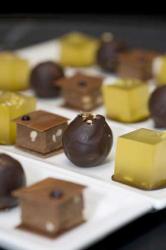 'All through the last 25 years we've been buying wines that are wines of terroir, that have a sense of place and identity and were a good representation of where they came from,' explains Narioo. 'Tonight you're going to d rink what we call natural wines – wines that come from organic farming were no weed killers, no pesticides or fungicides have been used. In the winery only natural yeast has been used as well. They are made by respecting the environment.'
Although I love the environment, I'm not a huge fan of natural wines which, in my limited experience can be coarse and lacking in refinement, flavour and aroma. The evening's selection turns out to be a mixed bunch with only Jurancon Vitage Vielh, Clos Lapeyre 2007, South West France with the sea bass and a Chianti Classico 'Le Trame' Podere Le Boncie 2006, Italy really doing the business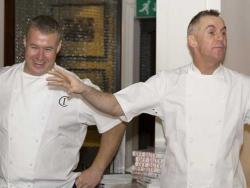 Narioo says the wines from the Jura region of France are 'challenging and difficult, they are really austere, really mineral with a lot of acidity', which describes the Arbois Pupillin Blanc Chardonnay, Emmanuel Houillon 2010 served with the consommé down to a tee. Frankly, its not much fun and neither is the Sydre Sur Schiste, 2010, Eric Bordelet, France that comes with toasted marshmallow meringue, Yorkshire rhubarb, rhubarb sorbet and warm vanilla custard (Rhodes of course), being way too acidic for the sweet pudding.
I leave McLeish, Rhodes and Nichols in the bar, signing copies of Nichols book Off Duty for the eager punters, sales of which will be donated to the charity. Its been a memorable night for a good cause and I return to my room at the nearby Bromley Court Hotel (dead handy if your not a local or don't want to rush for the last train) replete. Gourmet nights can be a cynical way to fill up a restaurant on a quiet night, but Chapter One obviously take them very seriously. They are not a cheap way to spend an early weeknight but you certainly get your money's worth.
Gourmet evenings will be held at Chapter One on the first Monday and Tuesday of March, July and November 2012. See the restaurant's website for details.
Chapter One Restaurant,
Farnborough Common,
Locksbottom,
Kent
BR6 8NF
Canapés

Sweet & sour chicken
Smoked eel on pumpernickel with horseradish & beetroot
Smoked eel veloute with eel brandade
Butternut & sage risotto
Venison Wellington
Fish & chips
Chicken satay
Butternut & feta croquant with a butternut veloute
The menu and matched wines
Game Consommé & A Warm Brioche With A Liver Parfait
Arbois Pupillin Blanc Chardonnay, Emmanuel Houillon 2010, Jura
●
Homemade Truffle Crumpet, Seared Foie Gras, Poached Hen's Egg, Hollandaise Sauce
Vouvray Sec La Dilettante Domaine Catherine & Pierre Breton 2010, Loire
●
Steamed Seabass, Creamed Potatoes, Spring Onions, Leeks,
Candied Ginger, Soy And Sesame Vinaigrette
Jurancon Vitage Vielh, Clos Lapeyre 2007, South West France
●
Rare Breed Pork With Crushed & Caramelised Apples, Confit Garlic, Smoked Purée & A Thyme Calvados Jus
Chianti Classico 'Le Trame' Podere Le Boncie 2006, Italy
●
Orange Blossom & Yuzu Jelly
●
Toasted Marshmallow Meringue, Yorkshire Rhubarb, Rhubarb Sorbet And Warm Vanilla Custard
Sydre Sur Schiste, 2010, Eric Bordelet, France
●
Coffee & Petit Fours